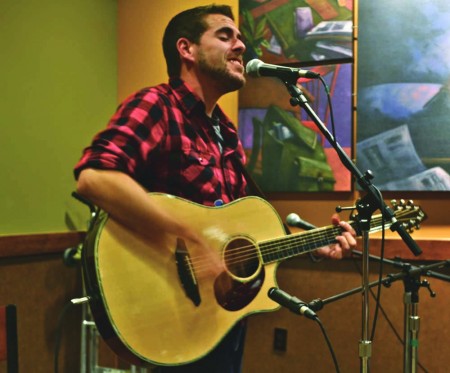 "I couldn't have gotten through what I've gone through without music," Joey Cottle, third year Ferris student majoring in music industry management, said. Cottle is not the average Ferris student.
"I had this idea of the person that I wanted to be, what I wanted to do with my life. I had it all worked out," Cottle said.
Unfortunately for this 24-year-old, life didn't play out exactly how he thought it would.
The third-year student and musician is also a loving father to a beautiful young daughter.
A year ago last May, Cottle lost his wife of over three years to a sudden death from a hidden heart condition.
By the strength of God and music, Cottle has fought adversity to become the man he is today.
"I couldn't have gotten through what I've gone through without music. I use it to lift me up; I use it to bring myself down, not in a bad sense. It helps me be happy; it helps me grieve," Cottle said.
Cottle is pursuing songwriting and performing as well as sound engineering. Music has been his outlet for grief, as well his inspiration.
"As a songwriter, I really like it when people come up to me and say, 'Hey, that song was really great. I really enjoyed it or connected with it.' That's what you're doing as a songwriter. You're trying to reach out and get people to feel your music. You're not really writing for yourself. You're writing for other people," Cottle said.
Cottle recently performed at Biggby for FSU Unplugged for the third time.
He is also a man of faith, performing and leading worship at Resurrection Life Church.
"I cannot express in words how close [God] has been to me this past year. I couldn't get through it without him," Cottle said.
His family is also extremely important to him. He credits his parents for helping him and allowing him to continue school and work. His daughter has provided him with the joy and happiness needed to get through each day.
"I couldn't do this without my parents. My mom has really stepped up and helps watch the baby. I'm busy. Most dads are home at 9 p.m., but I still have homework," Cottle said. "When I come home, [my daughter's] happy to see me and what ever happened that day, it's gone. It doesn't matter. She has just been a light and a joy through everything."
Despite the fact he has been a student on his own now for over a year and half, Cottle still acknowledges that his late wife is the reason why he is a Ferris student today.
"She was the reason I started going to Ferris. She knew how bad I wanted to go back to college," Cottle said after having dropped out of LeTourneau University (where he was studying to be a pilot) due to financial reasons.
He was also fed up with work life after having worked at Wolverine Worldwide for two years.
"I'm a musician; I'm not supposed to work in a factory," Cottle said. Indeed, he is not.
Cottle is an inspiration, devoting his life to his daughter, his music and his faith, all the while never forgetting the wife he loved.