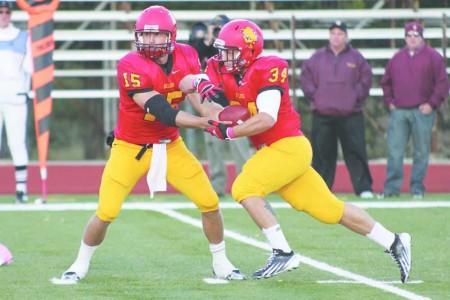 When a quarterback rushes for 214 yards, two touchdowns, throws for another touchdown, and manages to hold onto the ball for nine more minutes than the opposing team, a win should be imminent.
Yet a late charge by the nationally 16th-ranked Saginaw Valley State Cardinals cost Ferris State a possible fourth win on the season in a heartbreaking overtime loss.
Ferris State took a late 24-17 lead with 11:04 remaining in the fourth quarter when redshirt freshman quarterback Jason Vander Laan added to his career high 214 rushing yards with an 11-yard touchdown.
Saginaw Valley State was able to piece together a drive, ending in a Tim Hogue 13 yard touchdown reception with just 1:25 remaining.
Ferris State got the ball back, but stalled on the Cardinals 37 yard line where the Bulldogs threw three straight incomplete passes after a second down false start. Possession was given back to Saginaw Valley State with 21 seconds left in regulation.
The Cardinals moved the ball down to the Bulldogs 30 yard line with enough time to attempt a potential game winning 47-yard field goal as time expired.
Saginaw Valley State's field goal attempt fell short but the Cardinals found new life in overtime. The Cardinals were first to possess the ball in overtime, which allowed SVSU to score on a one-yard touchdown pass to SVSU's Nathan Hoyle.
The Bulldogs began their charge toward the Cardinals end zone down 31-24 in overtime. On fourth down and 20, Vander Laan was sacked and the Bulldogs conference record fell to 2-2.
"The one thing was they pressured us a little more in OT," Vander Laan said. "We were used to getting three or four yards a play regardless. So when we got stopped on first and second down, it put us in a really tough situation on third and long."
Ferris State will travel to Allendale next to face off with the nationally 4th-ranked Grand Valley State Lakers, who are coming off a shoot-out 51-43 win at 22nd-ranked Michigan Tech.
The Lakers were up 34-0 at one point in the second quarter, and were outscored 43-17 the rest of the way.
To beat the Lakers, Vander Laan and company will have to exploit their own strengths, including their rushing game in which they have two of the top six rushers in the conference in Skyler Stoker and Vander Laan. Ferris State leads the conference in total rushing with 1655 yards.
"The main key is to reduce all of the turnovers," Vander Laan said. "We know our offense can put points up on the board."
That being said, the rushing offense will have to keep up with the number one offense in the conference. Grand Valley State averages 51 points a game, which is 17 more than Ferris State scores.
Grand Valley also holds a narrow edge in total offensive yards, as they have gained 2443 yards, to Ferris State's 2383.
In order for Ferris State to remain competitive, they will have to prevent Grand Valley's quarterback Isiah Grimes from getting the ball to Charles Johnson.
Johnson has caught 38 passes for 647 yards and eight touchdowns on the season so far. Johnson is Grand Valley's equivalent of Detroit Lions receiver Calvin Johnson, as he sits at or near the top in every receiving category in the conference.
The Bulldogs will really have to lockdown on Johnson because they give up nearly 270 yards through the air per game, which is near the bottom of the conference.
Ferris State will have to get to Grimes before he can get the ball off and with senior defensive ends Jordan Morgan and Brad Iskow, the Bulldogs have a good opportunity to do so. Iskow is ranked of the conference in tackles for a loss. Morgan is also in the top five in the conference with 3.5 sacks.
"Our defense has looked really good the last couple of games," Vander Laan added.
If the defensive line and linebackers can take care of Grimes, they will have a good shot at keeping the game close into the second half, where Grand Valley struggled so mightily last week.
The Bulldogs will try to snap an 11 game losing streak to the Lakers, who hold a 27-12-1 record all-time in the Anchor-Bone Classic.