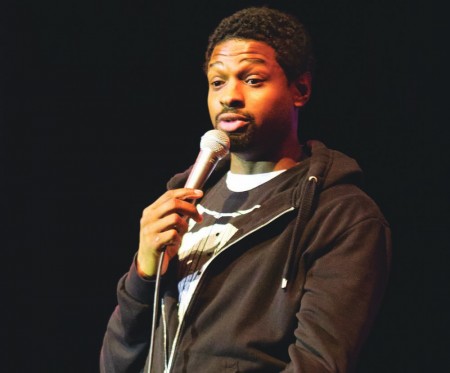 Several all-star comedians performed at the third annual Comedy Jam presented by You Beautiful Black Women (YBBW) Saturday night in Williams Auditorium.
The night started off with the Epitome Dance Team who rocked it out and set the mood for the night.
Derek Gaines, California-born comedian, hosted the Comedy Jam. He kept the crowd alive with his humor between the acts.
The first performer to take the stage was HBO actor and comedian Leon Rogers. He kicked off the show with his comedic point of view about dating. His advice for the students in the dating scene was to "keep it real with yourself."
Kyle Johnson, Ferris construction management junior, said this was the first comedy he attended.
"I thought it was pretty decent," Johnson said. "I liked Gaines the most because he made the connection with everybody and kept everyone hyped up."
Following Rogers, Vanessa Fraction, NBC's Standup for Diversity Showcase finalist and Nickelodeon comedian, took the stage and shared jokes about dating, being a parent and, most importantly, inspired the young women in the audience to remember they are strong and beautiful people.
When Fraction's performance was over, Gaines wowed the audience with his beat boxing and more humor. He continued to build the audience up throughout the night with his liveliness and sense of humor.
The finale of the show was actor and comedian, Alex Thomas who wrote 120 episodes for the TV sitcom "The Fresh Prince of Bellaire" and stars in `"Mr. Box Office" on the CW. Thomas also appeared in the movie "Just Married" and has performed with musicians such as 50 Cent and Kanye West.
Saturday night wasn't just any performance for Thomas. The Comedy Jam marked 20 years of stand up comedy for him and he couldn't have been more pleased to share that moment with Ferris. Out of the 71 universities he has performed for, Ferris was one of the best crowds he has ever seen.
During Thomas' performance, he poked fun at today's generation. He went on to joke about today's hip-hop and television.
"Five years from now, they'll be cussing on the news," Thomas said.
D'Andre Walker, Ferris mechanical engineering sophomore, thought the show was very entertaining.
"Overall, the show was hilarious and the host was really good. He kept the crowd involved," Walker said. "I just loved the event. My favorite part was the host because he had a lot of energy."
The Comedy Jam was a free event for Ferris students and made possible by the financial division of
Student Government.