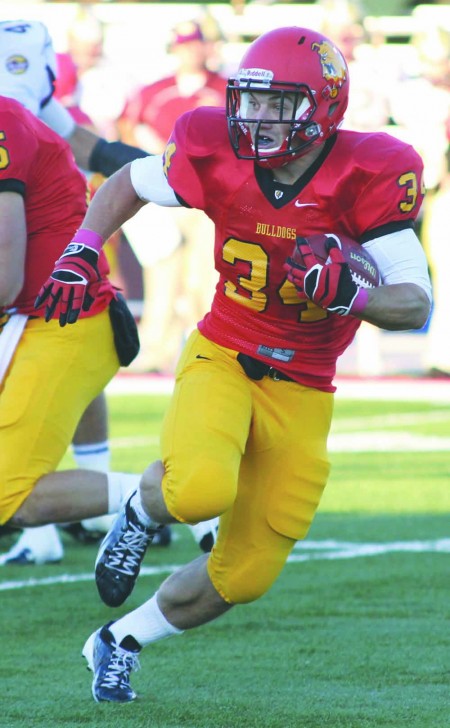 This season senior running back Skyler Stoker wanted to make a return from an injury that kept him off his feet for six weeks and ended his junior season just six games into 2011.
Stoker, a secondary-education major, suffered a spinal fracture to his ankle in a play against Findlay last season, Oct. 8. In six starts, Stoker compiled 586 yards in 94 attempts for 5 touchdowns before his injury abruptly ended the season.
"The injury really made me appreciate every moment I have on the field, it made it more than just a game to me," Stoker said.
In his return, Stoker's passion for the sport has sparked the Bulldogs offense thanks to his 52 carries for 345 yards and two touchdowns.
There are only so many names that will be called this season when the Bulldog's have four student-athlete's, Stoker and redshirt freshman Jason VanderLaan along with sophomore Jamaal Jackson and junior wide receiver Torico Searcy, who combine for an average of 6 yards per carry and have accumulated 1193-yards this season of the Bulldogs 1549 total yards rushed in five games.
Stoker praised the coaching staff's choice of offense, which he believes has everyone playing unselfishly.
"It's just about playing for the team, we're not out there trying to get our own accolades or anything, it's everybody for everybody," Stoker said.
Stoker said Saginaw Valley State's defensive coordinators locked down on the Bulldogs running backs Sept. 29 so Stoker made sure he set blocks while Vander Laan carried the ball 32 times for a collegiate career high 214 yards.
Stoker attributed much of the Bulldogs success this season to the effort of the offensive line and their ability to block. Wide receivers have sacrificed the amount of receptions they pull down in order to set up blocks. The Bulldogs will continue to use their rushing offense, which has generated 310 yards per game, against the Great Lakes Intercollegiate Athletic Conference.
"Blocks are the most important piece to an offense, without them nothing works," Stoker stated.
This years offensive line features starters senior Trevor Smolinski, juniors Carlin Landingham, Zach Wiersma and Sam Parker. Redshirt freshman Adam Bennet rounds out the starting offensive line.
"I think they're the most important people on the field because they are the heart and soul of the offense. It's up to them every play to make a play happen," Stoker said.
The purpose of the offensive line is to create paths and block out the other teams defense for the Bulldogs running backs and Vander Laan to run past or allow Vander Laan to consider his targets in the Bulldogs triple option play system.
The income of Annese and his staff has helped form strong bonds in the locker room and on the field, which senior safety/defensive back Jaime Barrera and Stoker believe helped the team with communication and
"I think everyone is playing unselfishly because that's how this offense works and that's what the coaches teach," Stoker said. "I also think the coaches have a lot to do with how tight the team is; there is no division between classes and positions so everyone is really close."
Ferris Football has brought together both sides of the Bulldogs attack.
"We're a very close group," Barrera said of the Bulldogs defense. "It's a family with a lot of leaders."
Barrera earned a starting position this season and has since made 43 total tackles (29 solo, 14 assisted) in five starts. Last season he made 46 tackles in 10 games.
Barrera said his role acts as the quarterback on defense. He keeps his eye's open while making sure every Bulldog is lined up for the next play. Barrera and the Bulldogs put in several hours of film study in order to get better at the sport they love.
"There are times when I spend hours a week studying tendencies, formations, routes, and anything that might give us an edge," Barrera said.
The Bulldogs will continue to watch film, analyzing their mistakes to improve in their next game. Ferris has had two games this season with four turnovers and Stoker thinks the Bulldogs need to address these mistakes if the team plans to reach their goals for the year.
"Everybody [on the team] realizes we're really good, it's just the little things that we do to ourselves that are holding us back," Stoker said. "[The team] is definitely starting to focus more on the little things."