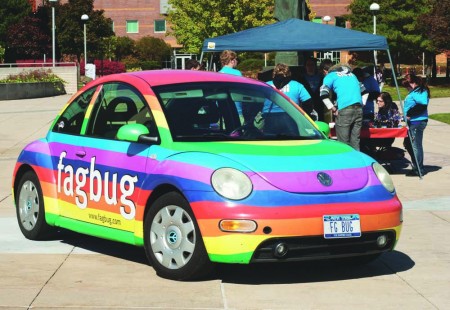 Fag. U r gay.
Humiliated by these words left on her car for sporting a rainbow sticker, Erin Davies decided to take action.
"It's not exactly what I was seeing my future to be, but I just kind of embrace it and I think it's really cool that I've been able to travel," Davies said.
Despite her positive outlook now, Davies was not so excited about what happened to her initially.
"I actually wanted nothing to do with it. I didn't want to drive the car like that. My insurance was backed up for five days. They said I had to drive the car, but I said no, it was humiliating. I made them give me a rental car," Davies said.
However, the rental car did not stop the attention from being drawn to her. She was stopped in the streets, on runs and in the rental car nowhere near her bug.
"I had this feeling telling me to drive it. So I drove it," Davies said.
Day one of driving the damaged car to grad school resulted in over 50 phone calls made to campus security who asked her to remove the vehicle from campus. Shocked by the amount of reaction her car received, she decided to keep driving.
Looking back now, Davies said, "It was almost like the universe was telling me to do this."
While on the road, Davies decided to experiment and have a male drive the vehicle to see what reaction would ensue.
"The word fag is more of a male term. People would be more apt to yell fag or faggot out the window at us," Davies said, as opposed to hearing it only one other time while she was driving during the trip.
People left notes on her bug throughout the journey. She has now received over 200 notes and documented them all.
Recently Davies received one that stood out in particular.
It read, "I sometimes see your car when I'm out running, and I told myself the next time I did, I would tell my perfect boyfriend the truth. I'm gay. Here goes nothing. Thanks Fagbug."
The Fagbug has not only inspired this anonymous woman, but other students on Ferris' campus as well.
"[Erin's] obviously overcome a lot of obstacles. She had to go through a lot, and it just proves that anyone can do it," Carlie Zervan, Ferris senior in public relations, said.
After the renovation of her bug to the full rainbow, Davies had some encounters with the law.
She was pulled over eight times in the first month alone and received two tickets for having the word Fagbug written on her car.
Last May, Davies graduated with her masters in art education after dropping out of college for four years to make a movie and tour the nation.
"She turned such a negative experience into a positive, and I think that's really inspiring," Stephanie Dallman, Ferris senior in public relations, said. "No matter what you're passionate about, you have to be brave and overcome any obstacles and I think Erin did exactly that."
"The whole project has been my own way of communicating back to that person to try and hold them accountable and get so many people talking about this," Davies said. "It's just how you can turn a negative around to make it a positive for yourself and for others."