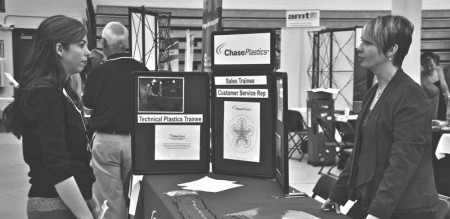 I knew long ago I would be attending the Ferris career fairs come this fall and spring.
As a student graduating this year, it was very important to me to get out and meet with potential employers. College degrees don't come cheap; I simply can't afford to not get a higher paying job or else student loan debt will crush me.
So, I took my time and got what I thought would be prepared. At a glance, it seemed I had it all down. I took out my suit which I hadn't worn since the last wedding I attended, got a good shave and set out in hopes of finding a future after Ferris. My resume was printed off on fancy paper. I put it all into a nice portfolio and at a glance I looked to be quite the hirable young student. Boy, was I wrong.
I walked in with literally no idea of what I was looking for, who I wanted to talk to and what I was going to say. By the time I got to the job fair, I realized there was a bit of gray area in my thinking. I'd like to think this is not just me, that a lot of students think the way I do. A fuzzy "go to college, something happens, get employed" without much thought to that middle step.
Fortunately for us students, there are two of these things a year. I hope what I did wrong can be a learning experience not only for myself, but also for everyone who reads this. Let me be clear: Professional attire is absolutely a must; do not show up in jeans. But when you talk to employers with a vague concept of what you want to do, it doesn't make a great impression.
The thing is, I believe I would be an excellent choice for hiring by many of the companies who are looking for someone in business. Most of us are. But employers do not know that. Make sure you are assertive and research the employers. Know what you are going to say, express what you want to do and ask what positions they are looking to fill.
The career fair is a great opportunity for employers who are looking for Ferris students to recruit into their organizations. Organizations like Buhler, a Swiss-based company with offices in Holland, has been coming to the career fair for several years. Their representative noted that Ferris students have a "good work ethic" and that they value the skill traits developed by Ferris students. This company was looking primarily for machinists, so if that sounds like something relevant to your major, take note because these people are looking to hire you.
Another organization was the Sault Area Hospital looking for pharmacy majors. The hospital is located in Ontario, Canada, and this was its first year attending the career fair. They like that Ferris is in somewhat close proximity to Canada and that there are many Canadians who attend Ferris and they hope to employ them.
The thing about career fairs is not that students are just looking to get hired, but businesses are looking to hire. Be confident, go out and make it happen! "