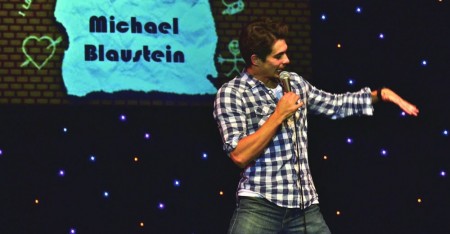 Comedians took center stage and provided laughs for a packed house in Williams Auditorium during Homecoming Week.
On Thursday, Oct. 11, comedians Na'im Lynn, Sarah Tiana and Michael Blaustein used their comedic personalities to get the crowd roaring.
Lynn was the last to take the stage after the students were warmed up by the previous acts. He finished the show with a bang, talking about everything from college life to what he prefers in a woman.
One joke was about that dirty baby that we all know with snot running from his nose. This elicited quite the laugh from Byron Williams, Ferris senior in public relations, sitting front row. Lynn called him out on what he said was a "hyena laugh."
"My favorite comedian had to be Lynn. His chicken nugget joke about the little dirty, snotty nose babies is just so true. Growing up, there were always these dirty kids," Williams said https://fsutorch.com/wp-admin/media-upload.php?post_id=12071&TB_iframe=1before responding to Lynn's comment. "Usually when I go to comedians I'm the loudest person laughing."
This once aspiring physical therapist discussed an incident that occurred at another university.
"One of the students came up to me and said, 'I thought your name was Nahh I'm Lyin.' You must be on a football scholarship," Lynn said.
Tiana captivated the audience with her southern girl personality and her vulgar in-your-face deal breakers for dating, as well as what guys are just doing wrong in general.
"If you wear Sketchers, get out of my life. Just shape up and ship out," Tiana said.
Early in her performance, one audience member yelled out "YOLO" only to have this bubbly blonde wonder the actual meaning. After some questioning, she made the connection.
"Oh, it's a white trash version of carpe diem. I thought that was git-r-done," Tiana said. The crowd erupted with laughter.
The MC comedian for the night was Blaustein. He was able to really engage the audience, asking them question after question.
He made the mistake of saying Ferris was located in Grand Rapids. The crowd quickly reminded him we are in Big Rapids and it definitely was not the same thing. From there he discussed his personal life.
"I wish my mom shut down my dreams. I wanted to play in the NBA. You can laugh, it's ridiculous. I'm 5'9" when I wear rollerblades," Blaustein said.
One joke really stood out in particular for Josh Hendrickson, Ferris sophomore in pre-pharmacy.
"I liked Blaustein's joke about the stereotypical skinny girl walking down the street. How he was acting it out was just hilarious," Hendrickson said. "I did enjoy the show. I thought it was very funny."