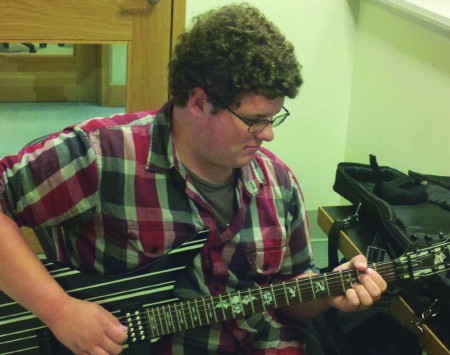 People love the idea of a starving artist, someone suffering for his or her art on a daily basis.
It's OK, though, to ply one's love of music in a more relaxed manner. For Ferris business administration and legal studies sophomore Justin Stratton, music as a hobby is just fine.
Stratton has been playing guitar for about four years, first picking up a guitar to practice seriously in his junior year of high school. Inspired by his friends and aunt, he's stuck with his guitar-playing since then—not to be a rock star or travel the world, but simply to play and love music.
"I love being able to play the music I listen to," Stratton said.
With school and all the activities that come with it in full swing, finding time to practice playing is a difficult task for everyone.
"When I pick [the guitar] up, I try to get at least an hour in," he said, explaining how he finds time to stay sharp on guitar.
The first song from a professional musician that he was able to play, outside of "Jingle Bells" and other standard beginner tunes, was Judas Priest's "Breaking the Law." As expected after years of additional practice, Stratton laughed as he said, "It's so easy now."
As for his guitar, he's no longer playing the rather cheap acoustic guitar he (and many other beginners like him) started on. After saving a little money over summer, Stratton rewarded himself with a back-to-school gift to be envious of: a sleek, black and white Schecter Synyster Standard.
He was encouraged by his girlfriend, a big fan of the band Avenged Sevenfold, to try this guitar, which gets its name from Avenged Sevenfold lead guitarist Synyster Gates. The name recognition was only a small part of the reason he chose the guitar, though. It simply felt "right."
As for his future and how music figures into it, Stratton has chosen to focus primarily on school.
"If I could find a couple of people who wanted to jam, I would, but I'm not looking to be a serious musician," said Stratton.
This is reflected by his change in major. Stratton used to be a music industry management major. Though he had praise for the program, he simply found that it wasn't the career path for him.
Now, with his new guitar in hand and his priorities in order, the future looks bright for Stratton. A sterling example of how a love of music is just as valid in people who aren't starving artists as it is those who are, Stratton will play on—casually.