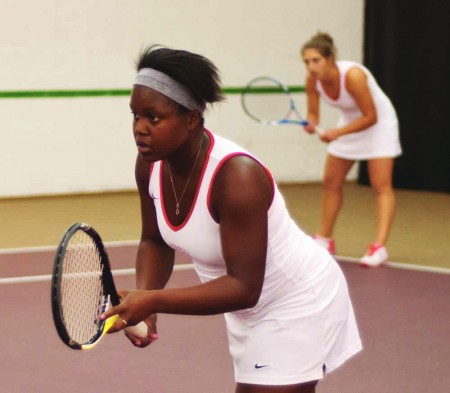 The Ferris women's tennis team has begun to charge up headed into the Great Lakes Intercollegiate Athletic Conference Tournament.
No team wants to start the post-season playing against a hot team, but whoever matches up against Ferris will be dealing with a team that finished 5-2 in its last seven matches.
Most recently, the Bulldogs were able to down Tiffin 5-4 at home for the win Oct. 14. Junior Julie Fusik, who also won her doubles flight earlier that day with the help of sophomore Laurence Leblanc, finished off Tiffin's Abi Schuster to break a 4-4 tie.
"Personally, I didn't feel like I did my best," Fusik said. "But I kept fighting and it turned out to be the decisive match."
The win propelled Ferris to 10-5 on the season and guarantees a top six finish in the conference.
Going into the post-season, Fusik acknowledged that most of the teams are dead even in skill, which could favor the Bulldogs.
Ferris played in six team matches that were decided by two individual matches or fewer. Of those six, Ferris has won four, including a 5-4 victory at Hillsdale Sept. 8. Hillsdale has been ranked directly ahead of Ferris State for the better part of this season.
Now the Bulldogs will wait until Oct. 26 before they compete again. With two weeks between now and the conference tournament, Fusik and company have a golden opportunity to prepare sufficiently for the postseason.
"We need to take advantage of these [next two] weeks," Fusik said. "[To improve] our fitness, technique and strategy."
While the conference tournament awaits the Bulldogs, what lies beyond is also very much on their minds.
"We need to win to get in a good place for the National Tournament," Fusik added. "It's not guaranteed that winning the GLIAC gets us in. But there are teams we would play that are ranked ahead of us which would help our cause getting into the tournament."
Win to get in is the name of the game now. Win to stay alive is the other mantra. The Bulldogs are now in charge of making their own tomorrow. A tournament win could be the difference between a National Tournament berth or completing the season by Halloween.
Based on the GLIAC standings, Ferris may draw the sixth seed and match up against Grand Valley State. Last year, GVSU earned runner-up honors in the GLIAC tournament.
The Bulldogs compete in the GLIAC Championship Tournament Oct. 26-28 at Midland, the home city of the undefeated GLIAC leading Northwood Timberwolves. n