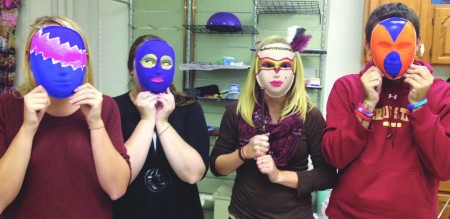 Do you love getting messy with paint and glitter? Do you wish you had a place where you could let your imagination run wild?
Artworks, a community arts center and gallery located in downtown Big Rapids, has opened its doors for Ferris students to attend Open Art Night.
This new event allows students to use their studio and supplies to create pieces of art. The first Open Art Night took place on Tuesday, Oct. 9, in the lower level of Artworks. Students had the opportunity to create anything they could possibly think of while hanging out with their friends.
Alice Bandstra, one of the volunteers who helped supervise the event, thought it was a really great idea for Ferris students to experience art at Artworks.
"I know that students study very hard and work very hard. I know that they need opportunities to do other things," Bandstra said. "I love the Ferris students and I thought it was a really great idea to have them come and experience art here. It is a way of getting Artworks known on campus and incorporating it all into our community."
Many students found out about this event through coupons handed out at Bulldog Bonanza as well as through Ferris State Public Relations Student Society of America. The coupon was good for one free admission to Open Art Night. This allowed students access to any of the art supplies in the studio (excluding clay), snacks and a space for students to relax and unwind through creativity.
Students didn't have to be a Van Gogh to participate. They were able to go wild with their imaginations and just have a fun night. Students made anything from masks to painted tiles, all things they were able to take home and hang on their walls.
Alexa Donakowski, Ferris business administration senior, decided to come because it sounded like a lot of fun. She loved Open Art Night because it gave her the opportunity to unwind and take a break from her busy life.
"[Artworks] was so nice when we walked in. They were like, 'Here is where everything is and you can go through the cupboards. We have some masks over there and some paper; just have fun,'" Donakowski said.
Donakowski also mentioned how great of a stress-relief arts and crafts can be.
"With everyone's busy schedules and crazy stuff going on, you can just take an hour out of your day to come here and do some art," Donakowski said. "Them saying 'just do whatever you want' is cool."
The cost for this event is $6 per session. This covers the cost of supplies used during the night. Ryan Dunham, Ferris public relations sophomore, thought Open Art Night is good for Ferris students because it builds cultural awareness and students can explore things that aren't necessarily a part of their curriculum.
"I decided to come because I wanted to get out and I like painting. My girlfriend likes painting, so I thought it'd be a nice date night," Dunham said. "Especially if you're artistic, you are able to create as much as you want for $6. To get all of these materials alone would cost a lot more than $6."
The next Open Art Night will be Tuesday, Nov. 13 at 8 p.m. If you do not have a coupon for the event, the cost will be $6.
For more information, contact Mary Morgan of Artworks at 796-2420 or like Artworks on Facebook.