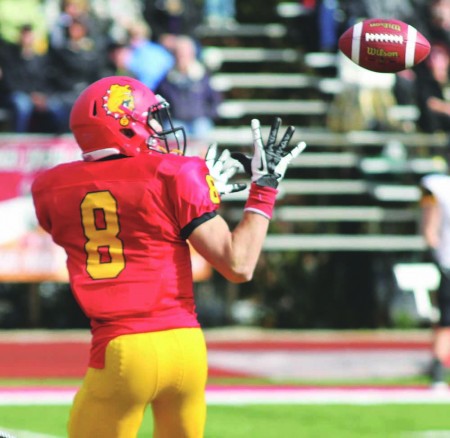 As a Michigan Tech radio broadcaster put it, Oct. 20's match up with the nationally 22nd-ranked Michigan Tech Huskies football team was "classic GLIAC offensive football."
Redshirt freshman quarterback Jason Vander Laan and sophomore wide receiver Jake Lampman would agree on that premise.
In a 56-49 victory over Michigan Tech, Vander Laan completed 20 of 28 passes for 357 yards and three touchdowns. He added 88 yards rushing for two touchdowns; 239 yards and 10 of his completions ended up in Lampman's hands for two touchdowns.
For a guy who his team so readily compares to Tim Tebow, Vander Laan showed off his arm this week.
"I was just able to get comfortable after I completed a few passes," Vander Laan said. "I think the O-line did a really good job today."
Vander Laan also channeled his inner Tebow, as he was nearly given the Hit Of the Week by Michigan Tech's radio broadcaster. Vander Laan delivered a bone jarring shoulder to helmet hit on Husky safety Emmett Bjorn en route to a 20-yard rush.
With all the offense the Bulldogs had, the Huskies nearly matched it. Husky quarterback Tyler Scarlett completed 30 of 44 passes for 380 yards and six touchdowns.
A big part of the offensive explosion was the absence of senior safety and leading tackler Jaime Barrera who missed the game with an injury sustained last week against Hillsdale.
"Jaime is a great leader," Head Coach Tony Annese said. "I think without him back there, we were a little more timid."
The Bulldogs will need to keep up their offensive onslaught if they are planning on beating their next opponent, The Wayne State Warriors. The Bulldogs will travel to Detroit this weekend to take on one of the Great Lakes Intercollegiate Athletic Conference's top defenses.
While Wayne State doesn't score much at just 23.3 Points per game they only allow 19.9. This has contributed to their 6-2 record up to this point. The Warriors don't have the big name player, but what they lack in star power, they make up for in team play.
Ferris State is the GLIAC's rushing leader, and has defensive linemen Brad Iskow and Jordan Morgan at the top of the conference in tackles for a loss.
With the emergence of the passing game this week, the Bulldogs have a new weapon going into their last three games of the season.
Lampman's 239-yard explosion put him at the top of the team in receptions and yards. When asked if he had ever had a day quite like this, VanderLaan, Annese, and Lampman all looked at each other and laughed.
"I come from a Wing-T offense," Lampman said, "I never saw the ball enough to have a day like today."