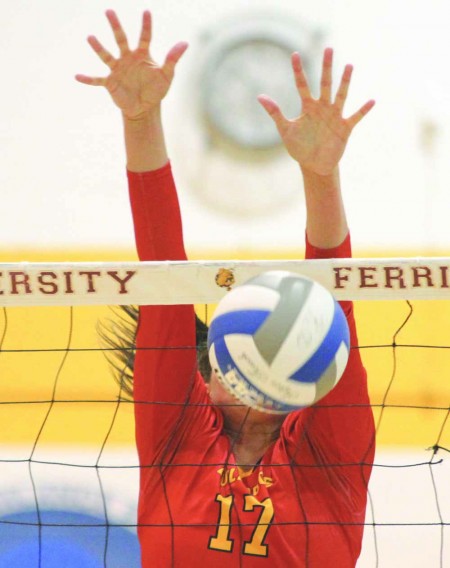 The 19-5 Ferris volleyball team has been nearly unbeatable at home this season and has lost only once at Ewigleben Arena up to this point in the season.
"We started it last year, that we don't lose at home, and it definitely has carried over to this year and we take a lot of pride in that," Ferris senior middle hitter Lindsey Miller said.
The team is currently riding a five-game win streak. Arch-rival Grand Valley State University comes to town on Oct. 30, and in their only previous meeting this year Ferris took down the Lakers by a 3-2 in-set margin.
The leaders of the Bulldogs this season have been senior middle hitter Anne Sutton, who leads the team with 249 kills, averaging 2.8 kills per set played, and sophomore middle hitter Courtney Rehm who leads the team with 302 points throughout the season with a 3.43 average points per set.
Miller said, "We just need to focus on one match at a time. Sometimes we will bring a little scouting into practice, but mainly we focus on ourselves and how we can get better game by game".
As the season winds down with only five games remaining, the focus starts to turn to the GLIAC tournament for the Bulldogs.
Ferris has been dominant in the conference so far this season, holding a GLIAC conference record of 12-1, with its lone loss coming against Northwood University.
Junior setter Brandie Merren has stepped up on the defensive end of the court for Ferris this year as she has recorded 403 total digs to date, which is 146 more than anyone else on the team.
"Our goal is to win the GLIAC Conference Tournament," Miller said. "There are quite a few good teams that stand in the way of that goal, but if we come out mentally prepared in each , I'm sure we can accomplish it."
The GLIAC tournament will kick off Nov. 14 and the Bulldogs are likely to win the GLIAC regular season crown. Depending on how the last five games go for the Bulldogs, they may host the quarterfinals at Ewigleben Arena where the Bulldogs continually "don't lose at home".
If the Bulldogs can keep it up, they can make it to the NCAA Division II National Tournament, where conference champions receive auto bids and the NCAA selection committee picks the remaining teams in the region based on overall season resumes.