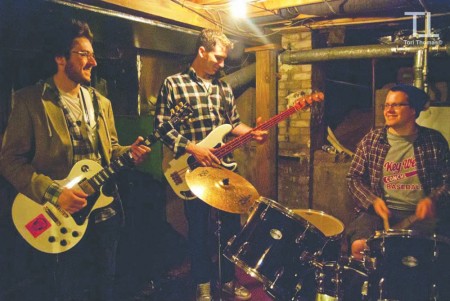 Overdrive Orchestra is Chris Cranick on guitar and vocals, Adam Bogues on bass and Max Griffith on the drums. All members are from Ferris' music industry management program, though Griffith graduated last year.
Always hard at work balancing music and studies, they released one album, "407," earlier this year, and will already be releasing it's as-of-yet untitled follow-up this winter. There seems to be no sign of slowing down as their plans extend past graduation, out of Michigan and into a bright future
Q: How did Overdrive Orchestra become a band? How did it start?
Cranick: Well, Adam and I actually grew up in the same hometown; we went to high school together. We started playing music then. Junior year of college we recruited Max. That was last year, in October I believe.
Q: Were you guys all in the music industry management program?
Cranick: At the time, yeah, we were. Max graduated at the end of last year.
Q:You have the one album out – what was the title of that again?
Cranick: "407"
Q: And that's your first official album?
Cranick: Yeah, that's our first release. I believe that came out on April 20 of this year.
Q: How'd that come together?
Cranick: We started recording that one around December of 2011. That was over at our friend's house, Zach Potter. He helped record and produce the album. We also had Max as a producer as well. We did that over the course of a couple months and finished it up right before we released it.
Q: You guys tried a lot of different things on there. Do you guys have a style you're aiming for or a goal musically? Or even your influences?
Cranick: Yeah, our influences I'd say are Led Zeppelin, Queens of the Stone Age, Pearl Jam, Soundgarden and a lot of the classic rock bands and the '90s bands. The '70s and '90s are our favorites. I guess if we were going for a specific sound, if I had to describe it, I'd say rock/hard rock. On some we tried to go for a lot of different stuff, an explosion of sound. I don't think we're really going for any specific kind of genre, if you had to label it I'd say hard rock.
Q: Whatever sounds good, basically?
Cranick: Yeah. "Support music that doesn't suck."
Q: I've seen those shirts, are those Overdrive Orchestra shirts?
Cranick: Yeah, they are.
Q: Are they available?
Cranick: They are available.
Q: Where at?
Cranick: Come to any of our shows, we have merchandise available.
Q: Speaking of shows, do you have any upcoming?
Cranick: Yeah, we have Nov. 16; we'll be playing The Gate with Last Born Legend and Wayland. Dec.1 will be our CD release for our newest CD that we're working on right now. I'm sure we'll have more shows sprinkled in between those two, and plenty more when the new year hits.
Q: Excellent, and what can you tell us about the new CD?
Cranick: Well, it's not necessarily a concept album, kind of like a "mood" album. When you're done listening to it you'll have a certain feeling. It's more acoustic-based than "407" was. It will have electric guitar as well, but it's definitely got a certain mood to it. Each song flows into the other very smoothly.
Q: Do you have a title for that?
Cranick: Not just yet; it's still in the works.
Q: You recently recorded a music video. Can you tell us about the recording of that, how it came together, and when we can look forward to seeing it?
Cranick: We were in talks with Amanda Krebs, who fronted it up. We talked to her over the summer about doing it. We did it for our newest single "Ecstasy," which was off "407." We went to The Gate and The Pub – did some shots there for the band. Did some shots around Big Rapids for the lead actors. My guess is we can probably see that before the new year hits. We're still doing some editing, but it's coming together pretty nicely.
Q: To finish up: future plans, post-graduation; what do you guys plan on doing even the rest of this year?
Cranick: The rest of the year we'll just keep playing shows. We'll be promoting the album. We're hoping to get down to the Grand Rapids region, possibly even Chicago, if we can. Once we graduate, I think our plans are to head down to Nashville. Adam and I are both looking for internships down there. Max, I think he's already got some stuff lined up for work. We're going to keep the band thing going. Personally, I'm going to try to get some studio time down there. I've been practicing up. Hopefully it will be music, music, music once we get down to Nashville.