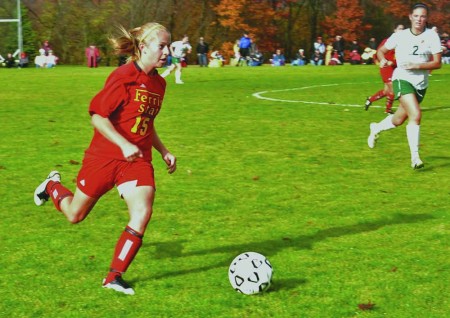 Ferris took to the road and came back to Big Rapids with an impressive two wins as they traveled to Notre Dame University (Ohio) and shutout Notre Dame in impressive fashion by the score of 2-0.
The domination by Ferris over Notre Dame was evidenced by the shots totals. The Bulldogs outshot Notre Dame 30-2 throughout the game.
Ferris found the back of Notre Dame's net 15 minutes into the game when freshman midfielder Abby Meirndorf notched her second goal of the season to give the Bulldogs a one goal edge.
The Bulldogs pressured Notre Dame into giving up an own goal in the second half which put the game at its final tally of 2-0.
"We prepare to win each game. Step by step we go out and just focus on capitalizing on our chances more," Ferris senior forward Hillary Procunier stated.
The second game of the weekend was also the final game of the regular season for the Bulldogs. Ferris State defeated GLIAC conference foe Lake Erie 2-0.
Following a scoreless opening half it didn't take long for the Bulldogs to put one in as sophomore midfielder Riley Wood scored only two minutes into the second half of the contest.
Three minutes later Ferris sophomore forward Stephanie Garland added another goal from a shot that went into the net from 20 yards out.
The team would earn another shutout and sweep the weekend with two wins and zero losses.
This is the third consecutive year the Bulldogs have made the playoffs. Ferris will face Findlay University in the GLIAC quarterfinals Oct. 30.
"We'd be ecstatic if we won the tournament," Procunier said. "I think it'd be the first time [Ferris] has ever won it."