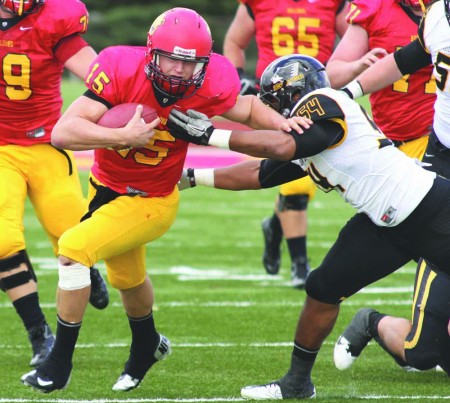 The Bulldogs found themselves down 21 points to the Warriors early in the second quarter at Wayne State Oct. 27, and looked like they were completely out of the ball game momentarily.
In the end, the Bulldogs outscored the Warriors 35-24.
The Bulldogs fumbled three times in the first half during their early struggles, but the defense was able to force the Warriors into a three and out to start the second half, and redshirt freshman quarterback Jason Vander Laan added a touchdown on the ground to tie the game.
"[Head coach Tony Annese] started to get really intense when we were down big," Vander Laan said. "He didn't want to see any bad body language. His main thing was telling us we have to start believing that we are good because we are and we have to start playing like it."
This week, Vander Laan rushed for 244 yards and two touchdowns. He was able to go without an interception for the second straight week as he was 8-10 through the air with 75 yards and a touchdown.
The win propelled the Bulldogs to improve to 6-3 on the year with two games remaining in the regular season. Ferris will return home for the celebration of the senior class this upcoming weekend against Northwood, then will travel to the U.P. to take on Northern Michigan.
The Bulldogs have endured a wild season that has seen them break decade-long losing streaks against nationally ranked teams like Grand Valley State and Michigan Tech. They have posted a 4-1 record on the road, winning at both Grand Valley and Wayne State.
Though the season has been an improvement on last year, the Bulldogs will have to win the remaining two games in order to contend for a playoff spot.
As of now, Bleacher Report's website does not have Ferris predicted in a playoff game, but an 8-3 finish would go a long way in making the playoffs.
Bleacher Report predicted that six teams who they had finishing with eight wins would make the playoffs, including Wayne State. There were two seven win teams predicted in the playoffs as well.
Since Wayne State can no longer finish with eight wins, Ferris State could find themselves in a playoff berth at 8-3.
"Our push to make the postseason is pretty exciting," said Vander Laan. "I was very anxious at the beginning of the season, but since week five, our offense has been clicking."
With Vander Laan, the Bulldogs have a quarterback that can throw for 300 plus yards and three touchdowns one week and then rush for 244 yards while orchestrating a comeback win the next week.
It is undeniable to say that Vander Laan would be a dangerous weapon for the Bulldogs in the playoffs.