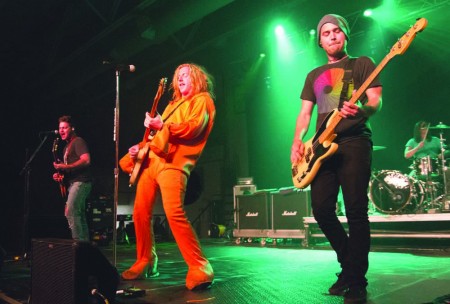 There were a lot of fireworks and royalty at Ferris' annual music festival, Autumn aLive, Nov. 1.
Fireworks and We the Kings performed live in Wink Arena. Students and area community members lined up early to get front row seats for the show. Guests came dressed head to toe in costumes, glow sticks and We the Kings gear.
Fireworks, a pop-punk band from metro-Detroit, opened the show Thursday night.
"It was great performing for Ferris," Chris Mojan, guitarist for Fireworks, said. "Everyone in the crowd was cool and everyone who ran the stage was awesome."
Followed by Fireworks there was a costume contest on stage. Students were encouraged to wear their Halloween costumes and enter the costume contest, which was judged by Fireworks. The winners received tickets to Turn Up The Good, a meet and greet with the bands and a gift certificate to Quinn's Music.
After the costume contest, We the Kings had a surprise for the audience. The lights went low and "Ball So Hard" by Jay-Z and Kanye West shook the roof while We the Kings ran on stage dressed in Halloween costumes. They transitioned straight into their song "She Takes Me High," which created a memorable start to the concert.
"We the Kings was the best part of the night," Tricia Schmiege, Ferris junior in nuclear medicine, said. "I've seen them before and they were pretty good. I had fun tonight; it was a good concert."
We the Kings had another surprise for the audience Thursday night. They announced they were filming Autumn aLive for the music video of their new single called "Party, Fun, Love & Radio."
Students, community members and Music Industry Management Association (MIMA) students had a great time at this year's Autumn aLive. All of the hard work and planning by MIMA made for an unforgettable night.
"My favorite part was the costumes and the jokes. We the Kings involved the crowd," Allie Reber, Ferris senior in professional tennis management, said. "I loved their songs, especially the last two. It was fun singing along and I liked the overall show."
Alex Cooper, Ferris senior studying hospitality management, also enjoyed the concert.
"It was pretty good; I definitely liked it," Cooper said. "Fireworks was awesome. I had fun; there was good music and it was a good time."
We the Kings wrapped up the show with a grand finale. They performed a cover of "The Middle" by Jimmy Eat World and concluded with their hit "Check Yes Juliet."
Meet and greets with fans took place before and after the show, with an ice skating session after the show for the bands and selected fans.
MIMA students and their sponsors made Autumn aLive possible. This event was sponsored by the student activity fees allocated by the Finance Division of Student Government, Entertainment Unlimited, Quinn's Music and Mr. Karl's Hair Salon.