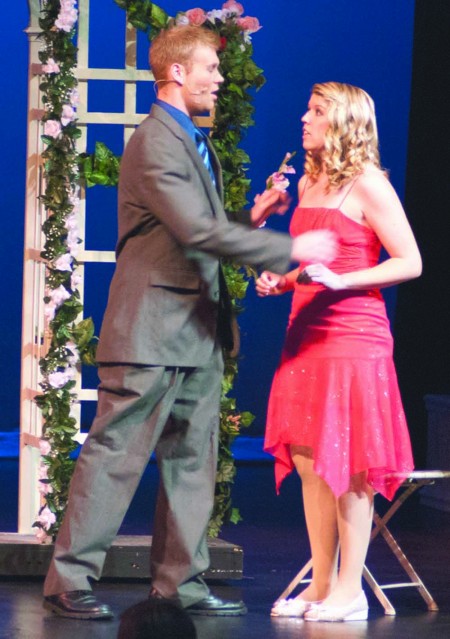 "Oh my god. Oh my god, you guys."
A group of enthusiastic young women demand center stage as they strut about singing and dancing to this first musical number. Elle is about to marry the best-looking man on campus.
The Ferris Theatre put on a rendition of "Legally Blonde: The Musical" Nov. 1-4 in Williams Auditorium for students and the community.
"I liked it a lot. I actually saw the play on Broadway, and I felt they did a really good job compared to it," Kate Heaton, Ferris sophomore in architecture, said.
The show started off with a bang and kept the audience engaged throughout. There were a lot of scene changes, witty one-liners and some suggestive innuendos to keep the crowd on its toes.
Elle, the bubbly blonde played by Ferris junor in hotel and restaurant management Selena Brown, always had something quick witted and quirky to say, especially if it concerned fashion.
"He wants someone serious, someone lawyerly, someone that wears black when no one is dead!" Brown said. Later on in the evening, she does it again. "Thanks for the tip on the costume party. I see you came as last year's sample sale."
Jenna Ladd, Ferris sophomore in English education, liked the show as well.
"It was really good. I really enjoyed all the acting, the sets were really awesome and the costumes were awesome," Ladd said. "You could tell they put a lot of work into it."
Elle does not fit into Harvard law school with her pink clothes, pink notebook and pink feather pen. But she beats the odds with the help of her friend, Emmett, who is on Professor Callahan's good side.
Despite trying to fit in at first, Elle realizes being herself will get her further in life. This was the message that Kevin Maenle, Ferris sophomore in graphic design and the man who played Emmett, wanted the crowd to receive.
"I think one of the big messages is that you have to stay true to yourself. You don't have to try to be something you're not," Maenle said.
Jessica Wheatley, Ferris junior in resort management and the woman who played the character Paulette, agreed with Maenle.
"I hope [the audience] laughs a lot and gets enjoyment out of it," Wheatley said.
The highlight of the night was the "bend and snap." It was by far the crowd favorite as they roared with laughter. Elle and the Delta Nu girls taught Paulette how to flaunt her stuff and win over the new UPS guy.
"I like the bend and snap personally. I love watching that," Maenle said. Wheatley agrees and admits it was her favorite part of the play as well.
Heaton gives credit to Wheatley when she mentions that Paulette is her favorite character.
"I've always really liked Paulette. I think that she's an amazing singer," Heaton said. "So that was really fun. She had a lot of spunk."
The show ended the same way it began, with an over-the-top musical number and a lot of enthusiasm. Elle was able to win the big case by remaining true to herself and even graduated top of her class.
Heaton says there is a message to be taken from this. "Be Legally Blonde!"