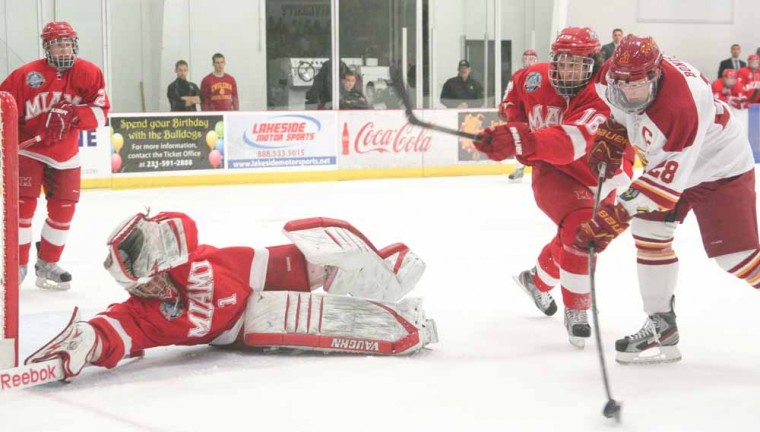 Ferris split the series against Miami but had a chance to sweep before the Redhawks iced away game two with an empty netter with 29 seconds remaining.
In the first game of the series, the Bulldogs posted a 3-0 shutout against one of the nation's top hockey teams. Freshman defender Brandon Anselmini gave Ferris a 1-0 lead in the first period off a power play goal, and in the third period sophomore forward Justin Buzzeo and freshman defenseman Connor Schmidt buried goals to give the Bulldogs a 3-0 lead that they would not let up.
Sophomore goaltender C.J Motte led the way for the Bulldogs by saving 25 shots in the entire game and posting his first shutout of the season after he stymied the Redhawks' offensive attack.
"The goalie played amazing, and the team looked really good on Friday. Miami is a good team, and they shut them down completely," Ferris freshman business administration Kate Schumar stated.
Miami sought redemption in the second evening of the series to deliver the Bulldogs a 4-2 defeat.
The Redhawks scored the first goal of the game in the first period before Ferris answered with a goal of their own from Buzzeo, who netted the equalizer to tie the game at one a piece.
The Bulldogs would falter as the Redhawks continued pressuring the Bulldogs' defensive zone. In the second period, Miami found a hole in the Dawgs' defense for a 2-1 lead, which came from a power play goal and continued to roll early in the third period when Austin Czarnik added a goal for Miami to give them a 3-1 advantage five minutes into the third period.
Senior center Travis Ouellette notched his second goal of this year's campaign, bringing the Bulldogs within one goal. But the five minutes dwindled as the Bulldogs fought for a tie before the Redhawks notched an empty net tally with less than a minute remaining.
Ferris junior music industry management association major Madison Szczesniak said, "Ferris is a different looking team compared to the team from last season, but I think they have the potential to win [the CCHA title] for a second year in a row, and I think they could all play up to their potential."
Ferris State is now in a tie for second place in the Central Collegiate Hockey Association with a record of 2-2 and a total of six points in league play. Ferris shares second-place with four teams in the CCHA. Ferris remains behind Notre Dame in conference play. The Irish lead the CCHA with nine league points.
The Bulldogs' offense is on pace to light the league up in offensively they are currently second in the CCHA with 26 goals scored. Ferris' defense has held strong as it sits in fourth-place in the CCHA in goals allowed.