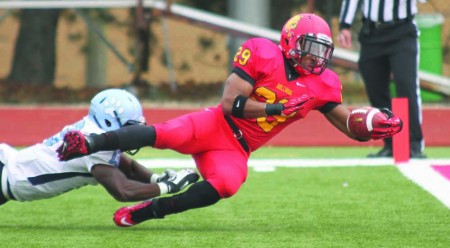 Ferris celebrated this season's effort by the Bulldogs' 17 senior team members Nov. 3, Senior Day, before facing Northwood University for their last game on Top Taggart Field.
Despite building a 13-0 lead over Northwood University after 4:10 elapsed, the Bulldogs were tossed in a 38-33 loss to Northwood. A loss against Northwood while conference members improved their league record over the Bulldogs completely erased Ferris' hopes of reaching playoffs this year.
"As seniors, we wanted to make sure we gave our all to help our team get a victory," senior linebacker Tayo Moss said. "We just didn't put everything together to be productive."
Ferris fell out of playoff contention with the top six ranked teams in the Midwest Region.
The Great Lakes
Intercollegiate Athletic Conference's divisional leaders, Grand Valley State and Ashland, along with any team ranked in the top six of the Midwest Region will compete in this year's 2012 NCAA Division II playoffs.
The Bulldogs needed to cover 36-yards in their opening drive. Redshirt freshman quarterback Jason Vander Laan connected with junior running back Korey Ringer for a 21-yard touchdown.
Ferris' defense put a halt to Northwood's next charge when redshirt freshman defensive back James Stewart intercepted Mark Morris' pass for the Timberwolves, returning the ball 28 yards for his first collegiate interception.
"We went up 13-0, we just didn't put everything together to be productive. We came out strong but we couldn't keep the productivity on both sides of the ball," Moss said. "We are too good of a football team to lose a game like Saturday's."
Northwood retaliated 11 minutes into the first quarter with a touchdown of their own. The Timberwolves totaled 38 points in the first three quarters.
Ferris had an opportunity to surpass NU in the fourth quarter by picking up two touchdowns through the air. On the Timberwolves' 38-yard line, Northwood stopped a possible game-winning drive by forcing Vander Laan to fumble for a sack.
"We are going to put that game behind us and just focus on defeating Northern Michigan," Moss said. "It's a must win game for us."
The Bulldogs record is now 6-4 overall and 5-4 in the Great Lakes Intercollegiate Athletic Conference.
Ferris' seniors will have one last shot to improve on last year's 6-5 record when the program was under the direction of former Ferris coach Jeff Pierce.
Ferris is 4-1 on the road this year. Ferris State will meet Northern Michigan Nov. 10 at 1 p.m. in Marquette.
Northern Michigan, a bottom-dweller of the north division at 3-6 in the conference, rides a two-game winning streak. Earlier this season NMU defeated Northwood Oct. 27 in Midland 21-13.