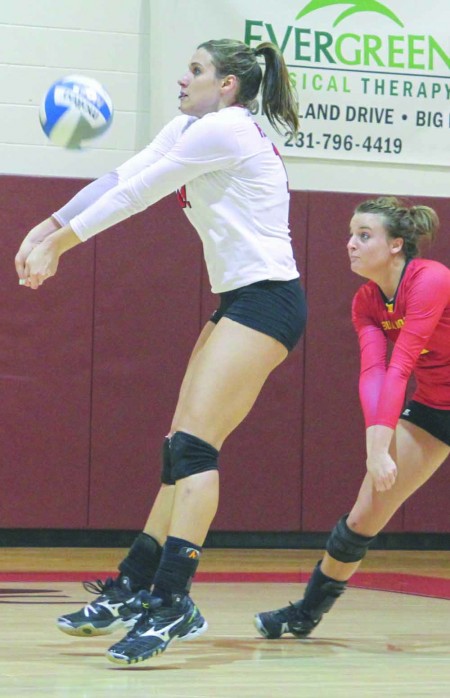 Ferris handily defeated Northwood University on Senior Night to avenge a loss earlier in the season.
Samantha Fordyce, Ferris senior co-captain and setter, said the team's goals for the night included "playing to our level, focusing on our game plan and playing like we want to."
The Northwood team, which was undefeated in the Great Lakes Intercollegiate Conference play coming into the contest, was dominated as the Bulldogs defended their home court 3-0. Earlier in the season, the Bulldogs lost a close contest at Northwood 3-2.
Behind the Ferris victory were Fordyce, who tallied 36 of the team's 40 assists, and junior middle hitter Angi Kent, who had the highest attack percentage of any player with considerable playing time and scored 11 points in the process.
Through exceptional defense and tenacity, Ferris was able to minimize Northwood's star player Juliia Pakhomenko, the outside hitter from Ukraine. Pakhomenko scored 13.5 points but struggled to maintain any form of consistency, as she notched an attack percentage of .095.
Courtney Rehm, the vivacious sophomore middle hitter whose battle screams can be heard echoing through Ewigleben Arena, said, "The seniors establish this mentality of getting really excited, and it rubs off on you."
In order to secure a regular season crown, the Bulldogs needed a victory from Grand Valley State over Northwood the night prior, but GVSU was unable to deliver.
The contest a day earlier between Ferris and Hillsdale College ended in similar fashion, a 3-0 dominant win. The Bulldogs were able to establish momentum early after a first set victory of 25-13.
Fordyce added to her assist total of over 4,500 in her career by massing 36 of the team's 37 assists. Co-captain senior middle hitter Anne Sutton showed her experience scoring in key situations by attaining 10 points.
Ferris is sporting a four-game winning streak and improved its record to 23-6 overall, with a conference record of 16-2.
GLIAC tournament play starts today, Nov. 14 at 7 p.m. at the Ewigleben Arena, as the second seeded Ferris Bulldogs face up against the seventh seeded Wayne State Warriors.
The Lady Bulldogs won their only regular season contest versus Wayne State University last month 3-2.Wayne State has been quite inconsistent over its last ten contests after sporting a record of 4-6 in that span.
The key contributor to the Warriors' attack is Kristen Bulkiewicz, the GLIAC Southern Division player of the week, who has racked up 308 kills this season, which ranks seventh in the conference and is more than any Bulldog this season. The Bulldogs have spread out the responsibility in terms of kills, as three players have turned in over 700 kills collectively.
Ferris has the best record in the conference over the past 10 games, and could match up against Northwood again to determine head to head wins as well as the conference victor.