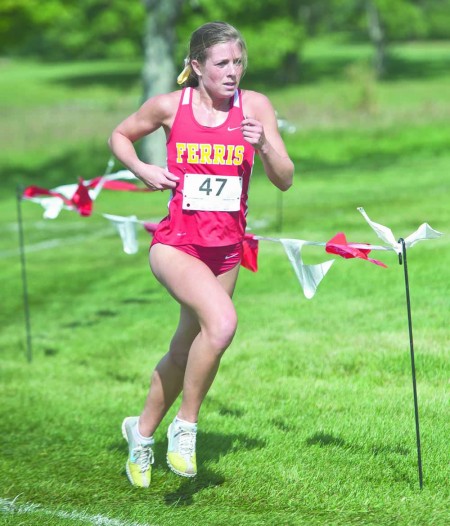 For four years, Alyssa Osika has been part of the success Ferris' cross country team has had, and going into her final race as a Bulldog, she has no thoughts of slowing down.
Osika wanted to be like her parents, except her story has a little twist. Both of her parents were more than runners looking for easy exercise. They were also Olympic hopefuls and ran in the Olympic trials. This led to Osika running her first mile when she was only three years old. Her passion for running would lead all the way to her running for a chance at a collegiate championship.
Osika's personality, toughness and motivation have not gone unnoticed by her teammates. She has taken on a leadership role this year as a senior, earning all-region honors as both the men's and women's teams head to the NCAA Division II Cross Country Championships. Coaches and teammates alike speak very highly of Osika's leadership style.
"Alyssa sets a good example for the other girls," fellow senior runner Anna Rudd said. "She leads by example, not by opening up her mouth and commanding that people listen."
Osika may be a quiet leader, but her intensity is definitely "contagious."
"She is very passionate when she steps up to the line to race," Ferris head coach Steve Piccuci said.
Picucci has worked hard to create a great program for runners, but with athletes and teammates like Osika stepping up as leaders, his job gets a little bit easier.
"Younger girls on the team have a lot of respect for Alyssa," Piccuci said. "The way that she has balanced practice, school and running is impressive."
Osika has proven to be very coachable over the past four years, and she looks toward her last race in the national championships.
Osika's accomplishments are only overshadowed by her own expectations as a runner.
Doubling as runner for Ferris' cross country and track and field teams can take its toll, but Osika has proven every year that she can compete at the highest level, as she has appeared in the national championship four times in four years.
Osika has held a team-first mentality throughout her running career.
"We are a family," Osika said. "I am just really grateful for getting the opportunity to be a part of this team."
As the men's and women's cross country teams head to the national championships to compete for the crown, both teams will look to their leaders, like Osika, for guidance and inspiration as they run against the nation's best. The championships will be held Nov. 17 in Joplin, Mo. by host Missouri Southern State University.