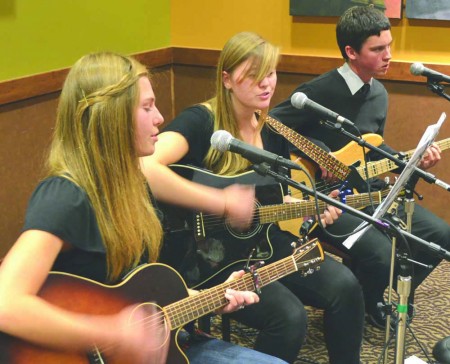 Espresso, steaming coffee, great music and good friends made for a relaxing evening at Biggby for Ferris' Unplugged Thursday night.
For several years, the Music Industry Management Association (MIMA) has teamed up with Biggby to host a bi-weekly open mic night. This event featured several acoustic acts ranging from soloists to trios.
Students packed Biggby Thursday night and spent the night enjoying the various performances.
Nicole Finch, Ferris senior in music industry management, has helped plan FSU Unplugged for over two years.
"I really like the coffee shop atmosphere," Finch said. "It's a great way to chill out after a long day of classes."
The first group that performed was 5.9 Dubs, which consisted of Mariah Shaltry, a Ferris sophomore in graphic design, Jacquelin DeBoer, junior in pre-nursing, and Daniel Lidman, Ferris freshman in TV and digital media production.
They performed songs such as "Love Never Fails" by Brandon Heath and "Safe and Sound" by Taylor Swift and The Civil Wars. Their performance captivated the audience with their vocals and acoustic guitars.
The next group that performed was another trio consisting of Jared Proctor, Ferris senior in MIMA, Michael Stefaniak and Ric Geiger, a student at Central Michigan University. These guys kicked the energy up a notch with their upbeat covers. They opened with "Send Me On My Way" by Rusted Root and also played songs by Queen, Guns and Roses and a '90s mash-up.
Stefaniak, who was the lead vocalist, said this was his fourth time performing at FSU Unplugged.
"It was definitely the coffee shop atmosphere. It was great! It was relaxed and chill. The only thing we're missing is the snapping," Stefaniak said. "The best part is when people get into it. With the first song you bring people in because they don't know what to expect."
Geiger, who played percussion, really enjoyed performing at FSU Unplugged.
"I like it when people start tapping their foot or nodding along," Geiger said.
The evening wrapped up with three more talented performers.
FSU Unplugged will take place again Dec. 6 from 6:30 to 8 p.m. at Biggby, located at 840 South State St.
For more information or if you would like to participate, visit FSU Unplugged on Facebook or e-mail FSUunplugged@nullgmail.com