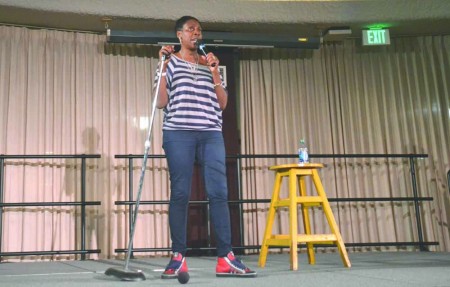 Comedian Gina Yashere was able to elicit some laughs out of a small crowd at Ferris.
The star from the Last Comic Standing, where she placed in the top 10, brought her jokes to the Dome Room Nov. 6.
"I really liked tonight's show. It was extremely funny," K.Lee Barnes, Ferris sophomore in nursing, said. "She was really witty and talked about a lot of relatable material."
Yashere came to the United States from London where she grew up with her Nigerian parents.
"Yes, I really do speak like this. There are black people in England," Yashere said.
Despite the smaller turnout, the crowd really warmed up to Yashere and her outrageous personality. She called out individuals to learn more about Ferris and the audience members in it.
"It was really funny and I would recommend someone else going," Emily Pietrowicz, Ferris junior in pre-veterinary medicine, said. "It was really relevant to college students."
From there Yashere talked about her experience coming to America.
"I can say anything with this accent. It's the shit. I had no idea," Yashere said.
She talked about anything and everything from how she thought she could be hood to how obese Americans are to how she was born before the Internet.
"This is going to blow your mind: I was born before the Internet," Yashere said. "You kids scare me. You know too much now."
Yashere also went on to talk about how ridiculous rap music has become. She did her own rendition of a rap song that consisted of various vulgar words not to be repeated. The audience erupted with laughter.
"I liked the entire section about rap. It seemed pretty accurate," Barnes said.
From there Yashere told students crazy stories about different animals turning on their owners or trainers and becoming violent. One story consisted of a python plotting to eat its owner.
"I'm scared of animals. I don't trust them," Yashere said. "I watch Animal Planet. I need to know my enemy."
This elicited quite the laugh from Pietrowicz.
"The joke about the animals being dangerous was very funny. But then again I'm pre-vet. It's my predisposition, I guess," Pietrowicz said.
Yashere has appeared on various television and radio shows in both the United States and the United Kingdom. She currently lives in Los Angeles but is on tour with Katt Williams.
She has won "Best Female Comedian" four years in a row at the Black Entertainment and Comedy Awards in the United Kingdom.
Both Barnes and Pietrowicz would recommend going to see Yashere perform.