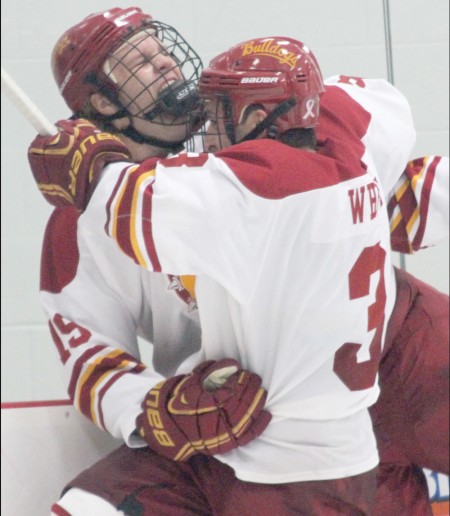 Ferris has had two weeks of mental preparation behind them to sharpen their skates before entering Ewigleben Ice Arena for their fifth two-game conference series of the season, scheduled this weekend against the Michigan Wolverines.
Whether you're a casual fan of hockey, a student with spirit, a sports writer, a hockey hound, one of the loud mouths that sit in front of the Bulldogs' pressbox or Dom Hennig, there is one thing that's clear: this weekend's series should not be missed.
"It's definitely great to get a chance to test ourselves this early in the season against Michigan, hopefully it's a big weekend for us and everyone that supports us," senior forward Kyle Bonis said.
Ferris' history with Michigan is rich in spilt blood. The Bulldogs have only won 28 of 99 games between the two dating back to 1982, and have not swept the Wolverines since 1985.
"Going in, our goal is to win the Friday night game," Ferris Coach Bob Daniels said. "I know with the roster they have this year they will be a formidable opponent."
Ferris will utilize the talented youth that have risen to the challenge of defending the Bulldogs' ice against the Wolverines. Though Michigan has struggled to maintain a .500 win percentage, they have been ranked as high as third in the nation dating back to Oct. 1, according to U.S. College Hockey Online.
The Wolverines have 11 draftees who plan to enter the National Hockey League when their career is complete at Michigan.
"Playing Michigan is kind of a unique animal, because they have better team speed than just about anyone we'll face all year. One of their trademarks is they have tremendous athletes and tremendous speed," Daniels said.
Ferris has zero draftees on this year's team.
Junior defenseman Scott Czarnowczan made a return to the ice against Bowling Green State after recovering from an injury. He added three points from assists and four blocks to his season statistics after completing his first series of the season.
"It's great to have a great player and leader like Scott in our defensive zone to help develop our young defensive core," Bonis said.
Czarnowczan aided Ferris with 77 blocked shots in last year's run to the national tournament and will be welcomed by sophomore goaltender CJ Motte, who has handled a puck pounding from Ferris' opponents.
The Bulldogs have faced tougher opponents than the Wolverines at this point in the season.
The nationally 17th-ranked Bulldogs have compiled a ratings percentage index that is ranked 24th in the nation, while Michigan is still receiving votes in USCHO's national poll with a nationally 35th placed RPI of the 58 colleges competing in NCAA Division I College Hockey.
The Wolverines are 3-5-1 in the Central Collegiate Hockey Association. Michigan's team defense has allowed 3.33 goals per game against conference opponents, which places them at the bottom of the conference in the statistic.
The Bulldogs and Wolverines share two things in common this season: they have defeated Bowling Green State and split a series with Miami (Ohio).
Ferris will enter this match-up with a sweep behind them and a three-game winning streak, while Michigan was just handed a 5-1 loss from 13th-ranked Cornell (USCHO).
This year marks the last time the two will match-up in conference competition. Ferris will have an opportunity to visit the newly renovated Yost Arena as their last series before the CCHA Tournament.