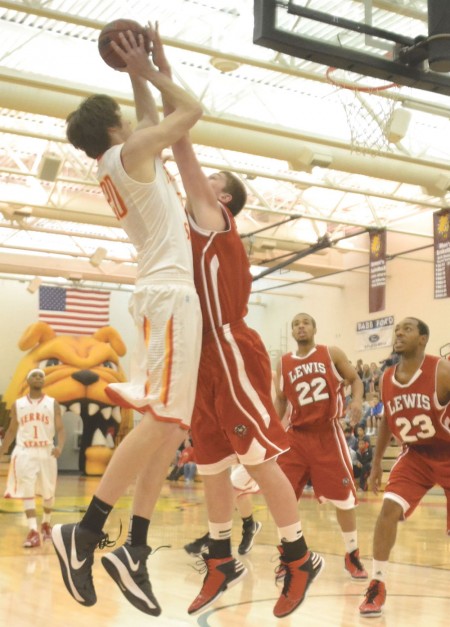 Ferris' men's basketball team hopes to begin league play with a win, as they prepare to play Lake Erie College in their first conference game of the season.
The Bulldogs will play the Lake Erie Storm in their first Great Lakes Intercollegiate Athletic Conference matchup this year, as they hope to bounce back after a tough loss to nationally ranked 11th Winona State University.
The season is young for the Bulldogs, and like the season, the team is also young. Ferris' roster boasts two seniors this year, which has forced the Bulldogs 13 players to step up and contribute to the team.
One of the athletes that have improved their play is redshirt freshman center Jared Stolicker. Stolicker has proved to be a useful asset to the Bulldogs, as he has pulled down 20 rebounds in three games and holds a team high .538 shooting percentage.
As a 6'10 center, Stolicker has helped defend the Bulldog's basket by blocking six shots for second-best in the league. He and senior guard Kenny Brown have helped the Bulldogs convert turnovers to lead the squad with four steals apiece.
With conference play looming, Stolicker is optimistic that Ferris will play well against conference foes in the GLIAC this season.
"Every game should be a tough one," Stolicker said. "The GLIAC is one of the toughest conferences in Division II. We will have to play hard every night."
When asked what he expects the Bulldogs will need to compete in Ferris' match-up against Lake Erie, Stolicker said a really aggressive, disciplined, and excited team.
Despite losing last season's lead man Dontae Molden who helped run the floor through the Bulldogs first back-to-back championship, Ferris still hopes they have the components to attain their third consecutive GLIAC North Championship for the first time in the program's history.
"We've got the potential to make history this year," senior forward Daniel Sutherlin said. "We need to change our mentality going into games. Our goal this year is to win the GLIAC, and the league is extremely competitive this year."
Sutherlin, who leads the team with 10 offensive rebounds, knows the importance of each conference game.
"We are going to have to go into every game with the mindset that it's going to be a battle no matter who we play," Sutherlin said. "We can't afford to underestimate anybody this year."
Sutherlin and Brown hope they can help lead this team to another conference championship.
Bill Sall has been the Ferris State men's basketball head coach for 11 years, and has seen his fair share of conference games. Ferris has won four GLIAC North championships under Sall's direction, and even though the road to another championship will be tough, Sall thinks he has everything he needs to steal a fifth title.
"We have all the pieces to the puzzle," Sall said. "But some of the younger guys are definitely going to have to grow up quick. We have the ability to learn, and when we get to January crunch time, I know we can perform."
Lake Erie's offensive focus has been guided by sophomore guard Jamil Dudley. He has averaged 18.7 points in the Storm's first three games. Dudley has flourished in Lake Erie's run and gun offense, which averaged a league second-best with 89 points per game due in part to three athletes who are in the top six for three-point shooting-percentage.
The Bulldogs will face Lake Erie as they hope to improve their current 1-2 record with a conference win on the road. Ferris will face the Storm Nov. 29th at the Jerome T. Osborne Family Athletic and Wellness Center in Painesville, Ohio.