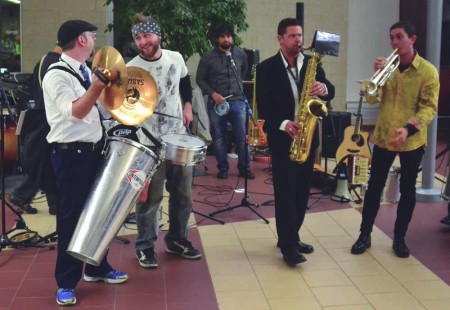 Being alone in an unfamiliar place can be one of the most difficult adjustments for someone to make, especially if there is no place to call "home."
Ferris faculty and staff are taking big steps to ensure students no longer feel this way—one cultural group at a time.
Room 131 in the Interdisciplinary Resource Center is now home to the Center for Latino Studies and is a welcoming space of cultural exchange, or "Intercambio Cultural," for students, faculty, staff and the community.
Tony Baker, the executive director for the center, explained that a lot of preparation for the center consisted of doing research.
"The thing we learned that was most important was that students who are from Latino backgrounds who are at Ferris felt very isolated," Baker said. "They weren't connected because there wasn't anything that really brought them together, so they never ended up meeting each other, even though there are about 400 [Latin students] on campus."
It was recorded as of fall 2012 there were 452 Hispanic students at Ferris, which is 3.1 percent of the total student body.
Baker, as well as others who worked on planning the Center for Latino Students, agree that creating an environment which encourages students with Latino backgrounds to grasp the opportunity for higher education is one which Ferris wanted to be a part of.
"We wanted to get them [Latino students] on a path toward college," Baker said. "That's become a national concern, too. A lot of universities are recognizing that African American and Latino youth are 40 percent of the college age population right now, so that's 40 percent of the workforce. If we're under-representing those groups in academics, then a huge portion of our work force isn't going to be prepared and this society is going to be harmed by it."
According to Jessica Cruz, associate director for the Center for Latino Studies, the center is focused on three types of connections: student connections, academic connections and community connections.
When focusing on student connections, the center has the goal to create a crossroads between students and provide a space for not only Latino students, but other students to come together as well.
The goal for academic connections is to make an easier distinction between where the academics end and where the community begins. This will connect all of the different colleges at Ferris with community partnerships.
The community connections goal is to build stable relationships with community businesses and institutions.
Kaylee Moreno, Ferris junior in social work and the student program coordinator/student representative for the Center for Latino Studies, thinks this center will be a great addition to campus.
Moreno said it is projected that 25 percent of Hispanic will drop out of high school in 2014.
"Promoting higher education and social justice is big for us," Moreno said. "We needed more awareness on campus and resources for us Hispanics to share our culture. This is a great opportunity for Ferris to expand and it's important for people to know the center is not just for Hispanics. It's for everyone, so I would encourage anyone to use our lounge and check it out."