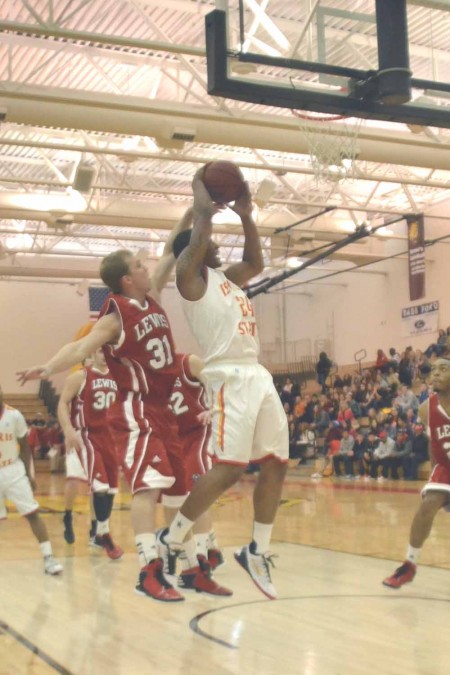 There was a point where Ferris stared a 0-2 conference start dead in the eyes.
In their first game of Great Lakes Intercollegiate Athletic Conference play, Ferris contested south division host Lake Erie for an 80-74 overtime victory Nov. 29.
Down 12 during the first half, the Bulldogs clawed their way back slowly to enter the second half down by nine points. Halftime allowed Ferris to gear back up and show up for the game.
"When we came out for the next half, we had to bring a lot more intensity," redshirt freshman center Jared Stolicker said. "Our defense was lackadaisical and very robotic, and we had to step up our game to the level we know we can play at."
Ferris came back to the court and outscored the Storm 40-31 in the second half to send the game to an extra session.
"Our defense was one of the things that definitely gave us an advantage," Stolicker said. "And converting our defensive stops or turnovers into a score at the other end."
The Bulldogs outscored the Storm 16-10 in overtime for the win. Ferris was sent to the charity line seven times in overtime, which allowed them to score 11 points off of free throws.
Senior guard Kenny Brown led the way with a career best and game-high 31 points for Ferris.
An overtime win can help build momentum, yet there was no momentum to be found in Ashland Dec. 1.
Ferris players were silent from the field, sinking just 32 percent of their shots, which included a 2-12 performance from beyond the arc.
The 71-49 loss brought the Bulldogs back to earth quickly.
"We just got outplayed, our shots didn't fall, we didn't rebound well enough and our defense was not what it needed to be," Stolicker said.
Ashland forward Evan Yates domiated the Bulldogs, going 9-10 from the field, finishing with a double-double. He scored 27 points and collected 12 rebounds.
Detroit native Daniel Sutherlin was the bright spot for the Bulldogs in this contest, as he finished with 18 points, seven rebounds and a block.
"I did a good job of just attacking them to the basket," Sutherlin said. "I was able to get to the line nine times, and I think I did a good job of finishing my layups."
The Bulldogs have a week of practice to correct their up and down trend before Ohio Dominican comes to Big Rapids Dec. 6 to open home conference play at 6 p.m. in Jim Wink Arena.
"Our defensive intensity needs to get better," Sutherlin said. "Our defense a lot of times dictates how well our offense does."
While the Bulldogs struggled through the Ashland game, they have shown a resilient front in response to the loss.
"A lot of that has to do with me," Brown said. "I put a lot of that on myself as a senior and a captain. I should have found a way to pick my team up."
Though a balanced attack against Ashland was an issue for the Bulldogs, it is clear this year's search for senior leadership has been addressed.