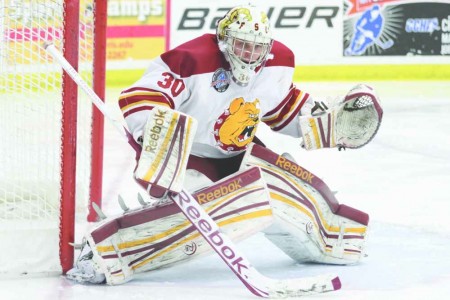 There is one thing Ferris has been consistent at during the last three years: developing All-American goaltending talent.
Last season, former Ferris All-American goaltender Taylor Nelson led the Bulldogs to an NCAA Tournament runner-up title and CCHA Regular Season Championship.
The year before, the Bulldogs were held together by another former All-American goaltender in Pat Nagle. Nagle recorded the second best career goals-against average, 2.49, and third best save percentage, .913, in the program's history.
Now, Ferris' sophomore goaltender CJ Motte is the Bulldogs' leading savior in net.
"He has the potential to be the best," Ferris coach Bob Daniels said.
Motte, a construction management major, is ranked eighth among the best goaltenders in the nation who have played at least 14 games.
He has maintained a .933 save-percentage this year and has allowed an average of only 2.09 goals past his pads per game, with two shutouts recorded.
Motte worked with Ferris' strength and conditioning coach Dave Cencer over the summer to prepare to endure a season full of making saves. At this point, Motte is third in the nation in most saves made with 403.
"I have to give a lot of credit to Dave Cencer. He really got me in shape," Motte said.
Motte, the captain of the Bulldogs' crease, defends last year's conference championship title each night.
Motte gives the Bulldogs a chance to win each game they play, as Bonis puts it.
"That's my goal. Every night I want to give my team a chance to win the game," Motte said. "I just have to do my job, save the pucks that I'm supposed to and try to save a couple that I'm not."
Bonis, the captain of the Bulldogs, has confidence stepping on the ice each night with Motte defending the Bulldogs' net. Bonis and junior forward Garrett Thompson are familiar with Motte's abilities in net, having played junior hockey with the goaltender for the Traverse City North Stars prior to his arrival at Ferris.
"His demeanor never really changes. He's a really good calming influence for us back there, and that's something that's really crucial in a goalie and a part of what makes CJ so special," Bonis said. "His ability to stay composed in tough situations is contagious on the team and has allowed us to get off to a good start."
Motte attributed Ferris' success this year to the defensive core in front of him.
He said the defense has become more comfortable on the ice and has made a significant effort to prevent opponents from getting quality looks on net, referencing the Bulldogs' recent 5-0 shutout of the Michigan Wolverines as one of Ferris' best defensive efforts.
"Our defense has really been turning it on lately; [they've] helped me out by steering guys away, so those grade A opportunity shots are off to the side, making them a little easier to save," Motte said.
Motte's attention is on the CCHA regular season, though he looks forward to competing in the CCHA playoffs. Motte is also hopeful Ferris can return to the NCAA Division I Tournament this year.
Motte's devotion and desire to constantly improve has impressed the captain of this year's team.
"We have a great chance to do really well this year. CJ is one of the best goalies in the country," Bonis said. "He has a very bright future ahead of him."