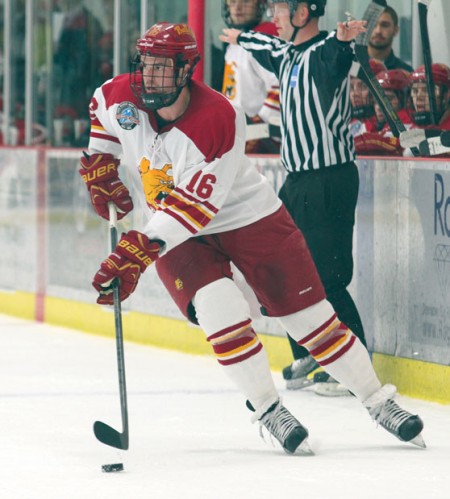 When he was initially recruited, Ferris Head Coach Bob Daniels admitted he did not expect Ferris junior forward Garrett Thompson to fill up the Bulldogs' stat line. Nor did Daniels expect Thompson to lead this year's squad in points.
"He wasn't a guy who was high on our radar or many other college teams. I think we were the only school to recruit him," Daniels said. "Lots of times you know you have a good player, and we thought we had a solid player. He has certainly exceeded our expectations."
Thompson, a sports marketing major at Ferris, was recruited from the Traverse CIty North Stars, and played on the same team as senior forward Kyle Bonis and sophomore goaltender CJ Motte.
He has shared a line with senior center Travis Oullette and Bonis since the start of this season. Their line has scored 24 of the 64 Bulldog goals. The trio has combined for 23 assists this year.
"I think [Oullette and Bonis] are the beneficiaries of a lot of Garrett's hard work," Daniels said.
Bonis and Oullette benefit from Thompson's work in the corners and his forechecking which creates plays for the linemates, to name a couple reasons.
Thompson has scored nine goals and assisted in eight plays to total 17 points this year. Thompson recently bagged his first career hat-trick as a Bulldog. He lit the visitor's lamp three times in Ewigleben Ice Arena Jan. 5 in a 3-0 shutout of the Michigan State Spartans.
"I think his hat trick against MSU is just the beginning of a bright future for him," Bonis said.
Thompson's 6'2", 191 pound frame allows him to stride along the ice quickly, and his long reach has been helpful on breakaways and during one on one situations when he needs to break his opponent down with a dangle of the puck.
Thompson uses his body on special teams against opponents like a human Zamboni would, by sheeting the ice with his opponent's body.
"He doesn't go out of position to make a hit, but if he gets a chance he will. He can hit hard," Bonis said.
Thompson uses his reach, stick handling and knowledge of the forecheck to punish opponents in their offensive zone. In the Bulldogs' defensive zone, he knocks the puck out of opponents' reach to create a play.
Daniels has observed Thompson since the forward arrived at Ferris and thinks his devotion and passion for the sport is the only explanation for his success.
Daniels said when Thompson arrived at Ferris he was not the most talented on the roster. Instead, Thompson's passion to work at each facet of his game set him apart from other players on the roster he joined.
"How hard he works every day in practice and the passion he brings to the rink has really served him well. I think that's what has allowed him to continue and develop as a player," Daniels said.
Thompson hopes he can continue playing the sport he loves professionally when his education is complete.
"You can tell he's in love with the sport," Daniels said.