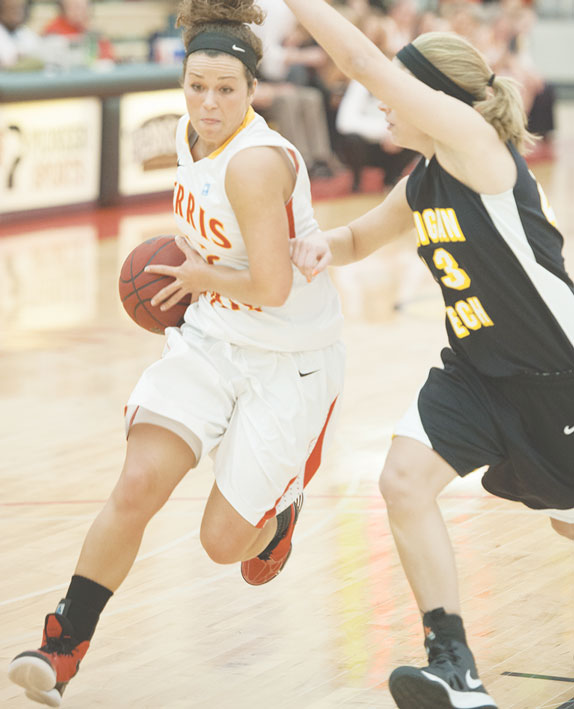 The road trip couldn't have started off any worse for the Bulldogs as they took to Northwood, where they shot a season low 24.7 percent, sinking 18-73 from the field in a 70-46 loss to the Timberwolves.
Northwood came into the game boasting a near .500 record in the Great Lakes Intercollegiate Athletic Conference (GLIAC).
"We came off a really bad loss; our coach called it our team's rock bottom. It was our turning point in the year," Ferris redshirt freshman guard Katie Mavis said.
The loss was one of the worst offensive nights for the Bulldogs. Even after collecting 27 offensive rebounds, the Bulldogs could only muster 46 on the night.
Junior guard Sarah DeShone led Ferris with a team high 13 points.
The Bulldogs traveled to Lake Superior State with their game against Northwood behind them.
Ferris senior guard Kylie Muntz helped put away the Lakers in a 74-71 victory with her career high 27 points.
"[Muntz] gives us so much motivation; she leads us in prayers before the game and has brought the team closer as well. She really has opened all of our eyes," Mavis said.
With four seconds remaining, Muntz made two free throws to ice Lake Superior State.
The Bulldogs are 9-3 in GLIAC play, and tied with Michigan Tech for the top spot in the GLIAC North.
Ferris sophomore forward Kara Hess helped by adding 15 points. Ferris junior forward Ashley Rando scored 12 points and Mavis was the only other Ferris State player who scored in double digits. Mavis also led the team in assists with six.
Wayne State, who sits a half game behind Ferris State for a share of the lead in the GLIAC North, travels to Big Rapids for a match-up to decide the eventual winner of the GLIAC North.
"They're a pretty streaky team. They can be really good during some games and they are a really athletic team. If we just play good team defense we can win this game," Mavis said.
The Warriors of Wayne State travel to Big Rapids on Jan. 24 for one of the Bulldogs' biggest tests yet.