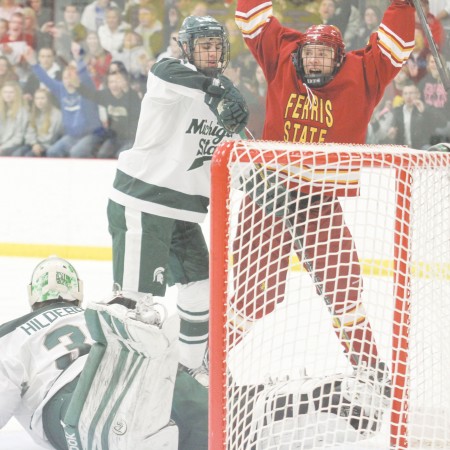 Ewigleben Ice Arena was packed tight in the Bulldogs' final season series against the Michigan State Spartans on Saturday, Jan. 19.
The Bulldogs would not disappoint, coming off of a Friday night 2-1 win over the Spartans.
Ferris would play much of the game with just 10 forwards, yet the banged up Bulldogs exploded as five different Bulldogs scored in the 5-2 win to complete the sweep.
The Bulldogs lost junior defenseman Scott Czarnowczan in the process after being dumped in his own corner. Trainers tested Czarnowczan for a concussion, but did not release word on the injury that night. Ferris men's hockey head coach Bob Daniels listed him as doubtful for next weekend.
Ferris sophomore forward Dom Panetta's first career goal proved to be the game winner 11:41 into the second period.
Panetta received the puck near his bench and shot a knuckleball of a puck through a crowd that found its way past Spartans' freshman goaltender Jake Hildebrand.
"I didn't even know I had scored," Panetta said. "I just saw it go in and wondered if somebody tipped it. Then everybody came at me and I realized I scored."
The weight off the shoulder was no light one. Panetta had taken his lumps for his long goal drought.
"Well, I haven't scored a goal in two years," Panetta said. "So there's quite a bit of pressure there. My teammates are always in my ear about it, poking fun. But now I don't have to listen to it anymore."
The sweep was the second of the season and first at home. Ferris' first sweep this season came against Bowling Green State in a November road series.
Sweeping the Spartans may prove to be a turning point for the Bulldogs, as it allows Ferris to pull into first in the CCHA if they can manage a sweep of Notre Dame next weekend.
"It's really big; we have some really big games coming up with Notre Dame and Western Michigan coming in here the next week," Daniels said. "You can move a lot in a weekend with a sweep."
Meanwhile, the Notre Dame Fighting Irish have mired through a 1-5 slump, which included being swept by the Alaska Fairbanks Nanooks at home last weekend.
The Bulldogs were beat up against Michigan State, but they expect to receive a gift next weekend. Daniels listed junior right wing Justin DeMartino, sophomore right wing and left wing Justin Buzzeo and senior center Matthew Kirzinger as probable for next weekend's road series.
The Irish still sit atop the CCHA, though they have compiled just a 7-5-0 mark at home. The Bulldogs sit fourth behind Western Michigan as they prepare to head to South Bend for a critical road series with the first-place Irish.
At 10-7-1 in the CCHA, the Bulldogs have an opportunity to vault into first place with eight games to go if they can sweep the Irish.
In conference play, Ferris sophomore goaltender CJ Motte leads in minutes played and has posted a consistent 2.00 goals against average, good for fifth in the conference. His .938 save percentage is third best in the CCHA.
This is where the Bulldogs have their biggest edge over the Irish. Notre Dame goaltender Steven Summerhays is near the top in most categories, but Motte has played over 250 more minutes.
Individually, Notre Dame has three players in the top 10 in scoring, including New York Islanders' draft pick and CCHA leading goal scorer Anders Lee, who has nine goals this season.
Comparatively, Ferris State's junior left wing Garrett Thompson is second in CCHA scoring with eight goals.
The Bulldogs have a 4-5-1-road record, which they'll need to improve upon if they hope to stand atop the league in pursuit of a second straight CCHA Championship.
The matchup should be close and hard-fought. The Bulldogs enter the weekend two points behind first-place Notre Dame.