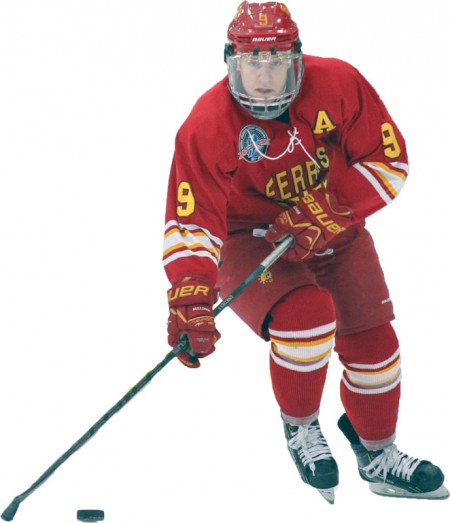 In his final year wearing a Ferris jersey, senior center Travis Ouellette has been characterized as a gritty face-off taking playmaker that is an assistant captain on the Bulldogs' top line.
Ouellette, a marketing major at Ferris, is on a three-game goal streak since the Bulldogs' 3-1 home win against Ohio State on Jan. 12. He has five points in the Bulldogs' 4-1 beginning to the new year.
"It's your last bang before you get the real life scenario. Are you going to go play professionally or call it quits and get a job? That pushes any player to play his best," Ouellette said.
Ouellette and senior captain and left wing Kyle Bonis have shared the same line for much of their career at Ferris.
"Chemistry is so important to playing together," Bonis said.
Ouellette's line features three Ferris skaters with different roles. Ouellette acts as playmaker, seeking Ferris' top goal scorers Bonis and junior forward Garrett Thompson as targets. Thompson also plays the role of hardworking power mule, Ouellette acknowledged.
With time dwindling and the Bulldogs' current run, Ouellette hopes Ferris will keep playing its best hockey. Continued production from Ouellette's line will be needed as playoffs approach.
"We have some tough games ahead, but we've really matured over the course of the year," Ouellette said. "This being our last year, we both know what we want to accomplish and the only way we can accomplish that is together."
This season, Ouellette has scored seven goals and tallied 10 assists for 17 points.
As a smaller skater—5-foot-9 and about 170 pounds—Ouellette is unafraid of most opponents that he meets skate to skate with.
He admitted to having a complex about the size of his body during youth. Ouellette's temper flared at players of a larger stature when they thought they could push him around without response.
"He is a gritty player. He plays with an edge that can sometimes end up with Bonis and I exchanging a few dishes with opposing players after the whistle," Thompson said.
Ouellette, still determined to tousle, adamantly avoids turning away from bigger skaters and prefers to get under their skin when the opportunity is present, hoping his opposition is stirred enough to take a penalty.
In his first three seasons with Ferris, Ouellette maintained time spent in the sin bin at 47.3 minutes per year.
Ouellette plans to play professional hockey upon graduation from Ferris.