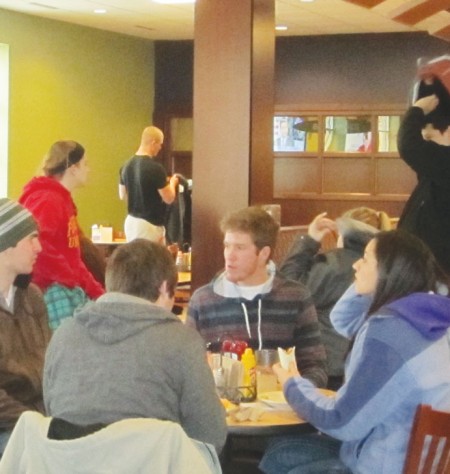 From the eyes of Ferris senior Joe Letavis, the number of students on campus this year is a "sight to see."
The biochemistry student has been living on campus since fall 2009, when he first arrived at Ferris. In the last four years, he said he has seen quite a difference in the number of students attending the university.
"The lobby for Merril-Travis is probably one of the biggest on campus, but the first week of move-in [this year] was a sight to see. Among all the staff, we have never seen the lobby filled to its highest potential with students having fun playing pool, ping pong, and watching TV," Letavis said. "It was astonishing."
As a senior, Letavis chooses to live on campus. He currently works as a desk services attendant in one of the residence halls and admits that by choosing to do so, he has been affected in many ways by the student enrollment increases.
Letavis explained he started this school year sharing his room with a freshman. Although his roommate was "a good guy," Letavis was expecting to have a private room and was disappointed when it was taken away due to the large increase of students in the fall. He also explained his frustrations with the heavy traffic in the dining facilities.
"Nowadays, evenings [at The Rock Cafe] are brimmed with chatter, laughter and eating," Letavis said. "It's awesome to see it being filled and people having a good time, but sometimes it's a bite when trying find seats or [dealing with] long lines."
According to University Advancement and Marketing, spring enrollment numbers have increased by 108 students since spring 2012, which placed the current number of students systemwide at 13,813.
As well as the overall student body increase, Ferris is noticing patterns of enrollment increases within many of the academic colleges offered. Those colleges include Engineering Technology, Pharmacy, Business and Education and Human Services.
Like a number of other students, Ferris freshman John Hill chose to attend Ferris because of the reputation of the program in which he was interested.
Hill explained he wanted to study criminal justice and heard Ferris had one of the best programs in Michigan, making his college decision an easy one.
Hill and Letavis agree that Ferris is at the perfect number of students for the space and facilities offered on campus. However, Letavis hopes the university will continue to make an effort to avoid future problems that may be caused by enrollment increases.
"Right now I think they are at the right amount [of students]. It might lead to problems when they cannot fit any more people in the halls and they will have to start rejecting students," Letavis said. "I feel it's time that they should consider adding new halls to the campus. I know it may seem like a waste now, but it might benefit later."