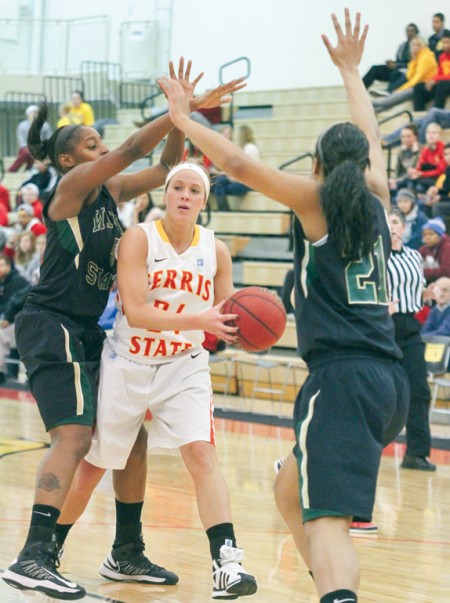 Ferris dropped from first to fourth in its division after losing two straight Great Lakes Intercollegiate Athletic Conference (GLIAC) North match-ups.
The Bulldogs had a week to retool, as they lost two games in a row against Wayne State and Saginaw Valley which shunted them to the middle of their division.
Ferris State (10-7) was tied for first place in the GLIAC North Division standings prior to facing Wayne State University.
In its home face-off against the Warriors, Ferris found itself in an early hole as the Bulldogs were down 12-2 within the first five minutes of play.
Ferris would eventually fight its way back into contention, bringing the game within three points, as the scoreboard read 65-62 with 5:30 left to play.
The Bulldogs' response came on the backs of their guard tandem of junior Sarah DeShone and senior Kylie Muntz, who combined for 45 total points, with 29 of these points coming in the second half alone.
In the end though, Ferris would lose the contest 81-68 as it struggled rebounding and defending the Warriors' leading scorer, forward Talisha Bridges, who had 31 points against the Bulldogs.
Ferris then traveled to Saginaw Valley State University to play a Cardinals team that was coming off of a four-game losing streak.
In a closely contested shoot-out, Ferris State would come up short in a 73-70 overtime thriller that featured 20 lead changes and six players with 13 or more points.
This would mark the first time this season the Bulldogs would lose two consecutive games, leading them to fall to sixth in the GLIAC and fourth in the North division.
"I just feel like we underestimate teams," Ferris junior forward Ashley Rando said. "We get off to a slow start, and when we try and play catch-up, it's too late and they have too much momentum."
Rando is a multi-faceted player, as she leads the team in steals with 43, which is third in the GLIAC, and holds a .419 shooting percentage over 16 starts.
"We know basketball is a game of runs," Rando said. "We have to come out within the first five minutes with no mercy."
Ferris has a week off to work out the kinks in its game along with getting some much needed rest before it hosts division rival Grand Valley State University.
"We have an entire week to prepare for Grand Valley," DeShone said. "We will be ready."
DeShone has been an essential part to Ferris' success this season, as she is second in the GLIAC in points per game with 18.5, which ranks 16th in the NCAA DII standings.
"There are still a lot of games left and anything can happen in the GLIAC."
Ferris will host the Grand Valley Lakers Saturday, Feb. 2 at the Jim Wink Arena.