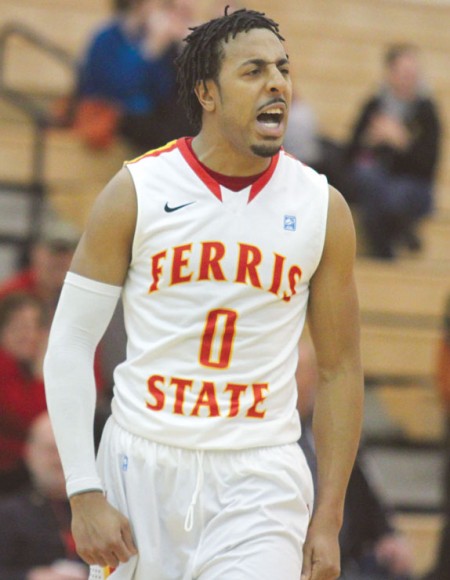 Last week senior guard Kenny Brown was determined to make a statement against Wayne State University for Ferris.
Brown, a marketing major at Ferris, scored a game-high 26 points in a 72-68 victory over an undefeated Wayne State while becoming Ferris' 26th player to reach 1,000 points. In the Bulldogs' first over-time, Ferris trailed by two with 13 seconds remaining to play.
"Beating Wayne State lets us know that we can beat anybody in the league, and the games we've lost, we know we shouldn't have. If we bring our A-game and practice hard, the hard work will pay off," Brown said. "We have to go into every game like we're playing Michigan State. This past week we practiced really hard and we told ourselves we were going to win [against WSU]."
After Ferris sophomore guard Drew Lehman failed to convert on a drive into the lane, the Bulldogs needed to draw up something effective with 2.8 seconds remaining and possession. That's when Brown broke free from a Wayne State defender to sink a 14-foot floater and tie the game at 63-63 and send the game to a second overtime.
"He's been huge for us in late game situations. His shot selection is much better, and he's playing within the system, which has been a key factor in our success these last couple games," Ferris senior forward Daniel Sutherlin said.
With a single second left in last night's game against Saginaw Valley State University, Jan. 27, Brown broke a 47-47 tie by sinking a three-point shot to defeat the Cardinals 50-47. Brown acknowledged the road win vindicated this team's case to defend its crown.
Earlier this year, Brown broke his jaw during practice. An elbow caught him in the jaw while going up for a rebound. Brown had to wear a protective mask to avoid harming himself further as he played with his jaw wired shut for seven and a half weeks. He lived on a mostly liquid diet that lacked chewable protein and carbohydrates, all the while envying those who had a functioning jaw to eat with.
"I don't know how I got through that. When I say that was the worst seven weeks of my life, it really was," Brown said. "I'm glad it happened early in the season. It made me actually realize it's not all about what I say. It made me listen more."
The injury took a toll on Brown's body. He lost close to 15 pounds, including some muscle, and all ability to speak while injured.
Brown did not allow his injury to interfere with his ability to score despite being unable to communicate with his teammates.
He broke down the Lake Erie Storm, Nov. 29, 2012, by scoring a collegiate career-best 31 points while wearing the mask.
Brown led last year's squad to the NCAA Division II National Tournament with a team high 16.9 points scored per game. He has been an offensive force for Ferris' back-to-back Great Lakes Intercollegiate Athletic Conference championship winning teams in 2010-11 and 2011-12.
Brown averages 17.2 points per game this year.
When Brown graduates from Ferris, he hopes to continue playing basketball professionally. He would like to stay in the United States, where he is closest to those significant in his life. He didn't rule out the likelihood of going overseas though.
"It's the thought of your dream coming true," Brown said. "When you really love a sport, you don't just play the game to play. You play to make it to the next level."