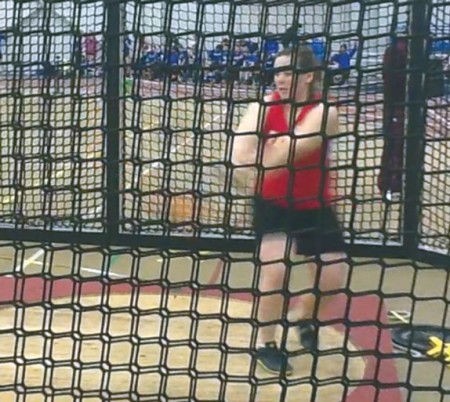 Ferris thrower Jessica Pilling twirls, hurling the 8.8-pound shot put ball through the air, landing with a thud, 12.57 meters away. Smiling, she walks back toward her team, satisfied with the result.
"This last meet, I picked up shot put for fun," the junior pre-chiropractic major said. "I haven't thrown it since high school."
The throw was good for first place at The Cardinal Open Jan. 25, which was held at Saginaw Valley State's Ryder Center.
Pilling, a native of western Ontario, doesn't call the shot put her best throwing event, though it's hard to ignore the results.
"For the indoor season, it's weight throw," Pilling said, "But overall I would consider my best to be the hammer."
In each of her three seasons, Pilling has set a Ferris State top throw of the season in a different event, according to the Track and Field Results Reporting System website.
During her freshman season, she launched the discus 36.65 meters at the Grand Rapids Open. Sophomore year, she set the Ferris State weight throw season mark at 17.37 meters during the NCAA Div. II Team Challenge.
At NCAA Championships later that season, she placed ninth overall in the hammer throw at 55.14 meters.
The versatility comes from nearly seven years of experience in throwing.
"I think during the eighth grade I practiced shot put and discus a few times," Pilling said. "My older brothers threw, so I kind of followed them for a bit."
Pilling hit a wall in her first two years of high school. Though she was throwing exceptionally for her age, she wasn't improving, which didn't sit well with her.
"That's when I started the hammer and started to make big gains," Pilling said. "Coach Levine coached my brothers at CMU and took a chance with me. My distances weren't great, but not the worst."
Teammate Lucas Johnson, a Ferris red shirt junior who currently studies welding engineering, praises Pilling as an upbeat and intensely competitive thrower.
"She is a good team leader and a great thrower," Johnson said. "She's always ready with a pointer or suggestion for her teammates."
To be a competitor, the ability to shake off a bad game is not only preferred, but necessary.
"She can put a few bad throws behind her and come out with a huge one at the end," Johnson said. "She's just a very positive person."
Though a year ahead of Pilling, integrated studies major JJ Vandenberg finds himself learning life lessons from his younger teammate daily.
"She's taught me that if you have a positive attitude throughout the long season, the good throws will come," Vandenburg said. "There are times when you kind of plateau on your throws, but she has shown us that if you work through that, you can succeed."
Pilling is the type of competitor that chips away at her work, improving every aspect, believing that her skills haven't been perfected which allows her to improve on her results every season.
"I expect to keep moving my distances up. I am always excited to set a personal record," Pilling said.