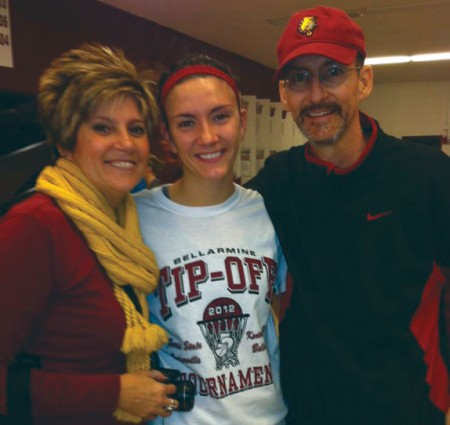 Ferris State senior guard Kylie Muntz is playing her best basketball despite losing her father to cancer earlier in the season.
Every college athlete prepares to fight through the bumps and bruises that a season can bring, but no one can prepare to lose a loved one.
This is the case for senior nursing student Muntz, who lost her father, James Muntz, to a battle with cancer over winter break.
With the season nearing the midway point at the time of her father's death, Muntz wasn't sure if she would be able to continue to play basketball anymore, but her faith wouldn't let her quit.
"I wasn't sure if I would even be able to touch a basketball again," Muntz said. "But God really instilled in me an incredible strength, and I eventually looked forward to playing."
To show their tremendous support for Kylie and her family, the entire team, including coaches and trainers, traveled to Ohio to attend James Muntz's memorial service.
Along with attending the memorial service, the team now wears "Team Muntz" T-shirts during their warm-up before every game. This just goes to show how a team can come together to support a fellow teammate.
"She is one of the strongest people I know, and we have allstood behind her," Ferris junior point guard Sarah DeShone said. "He was a great person, and she is a great reflection of her dad."
The Bulldogs will need Muntz just as much as she needed her team, as they fight for contention in the Great Lakes Intercollegiate Athletic Conference and a shot at making the conference tournament.
Muntz has been an important asset to the team this season, as she averages 11.3 points per game against conference foes along with a team-high .833 free-throw percentage.
To accompany her solid averages, she has also had three games of 15 or more points, and two games of 20 or more, including a 27 point outing against Lake Superior State.
With only eight games left in the regular season for Ferris, the Bulldogs will have to play inspired basketball to reclaim the top spot in their division after recently losing two straight games.
This shouldn't be a problem for Muntz, as she will have her family and her father to play for as she looks to close out her career playing in crimson and gold.
"My father has always been my number one fan and supporter," Muntz said. "He has always told me to go out there and play my absolute best and have fun because that's all that anyone can ask of you."
Muntz and the rest of the Ferris State women's basketball team will host division rival Grand Valley State University Feb. 2, as they hope to get back on top and make this a season to remember.