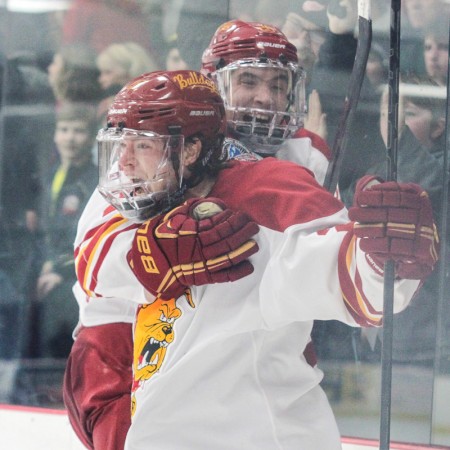 Three ejections, a second and third period full of fighting, and a scoreless overtime session kept the Bulldogs in Ewigleben Ice Arena later than Ferris head coach Bob Daniels could remember staying in the arena in his 21 seasons coaching Ferris.
"I thought it was an extremely hard fought, emotional competitive hockey game. Midway through the third, we lost our mind collectively as a team. We got tied up trying to play the Broncos," Daniels said.
Ferris captured four league points in their first shootout victory of the season against Western Michigan Feb. 2, catapulting them back into sole possession of fourth place in the Central Collegiate Hockey Association with 36 league points.
Senior Ferris center Matt Kirzinger potted his first goal of the year after returning from an injured wrist to put the Bulldogs up 1-0 over the Broncos in the first period.
A scoreless second period, that featured eight Bulldog shots on net to the Broncos four, was hard for Daniels, junior center Cory Kane, and senior captain, on the left wing, Kyle Bonis to remember due to a third period with 15 penalties and three ejections.
Freshman right wing Dakota Klecha was charged with a five minute penalty that earned him a kick from the game, while junior right wing Garrett Thompson was sent to the penalty box for hitting from behind early in the third period. Later in the third, Kirzinger was kicked from the game too.
The Broncos capitalized on the power play opportunity by scoring two goals in the third.
With less than a minute remaining, the Bulldogs pulled sophomore goaltender CJ Motte for an extra attacker.
"We had to really refocus as a group on the task at hand and quit trying to battle the officials and make sure we played intelligent hockey with one goal in mind: to score the game tier," Daniels said.
Junior right wing Andy Huff began the Bulldogs game-tying play by loosening the puck from a Bronco defender's hold. He sent it to Binkley at the right point, who sent the puck to Thompson who found Bonis to tie the game at 2-2.
In overtime, the Broncos Dennis Brown rammed senior Eric Alexander into the boards in the Bulldogs zone which resulted in an ejection. Neither team scored during overtime.
Bonis scored his 15th of the season by emulating junior Cory Kane's shootout goal against Western's goaltender Frank Slumbowski. Each Ferris skater deked left and right as they prepared to beat Slubowski by a backhand.
Ferris improved to 13-11-3 overall, and 11-9-2-1.2
For more photos from this weekend's series, visit our photo albums on our Facebook page.
Friday
Saturday