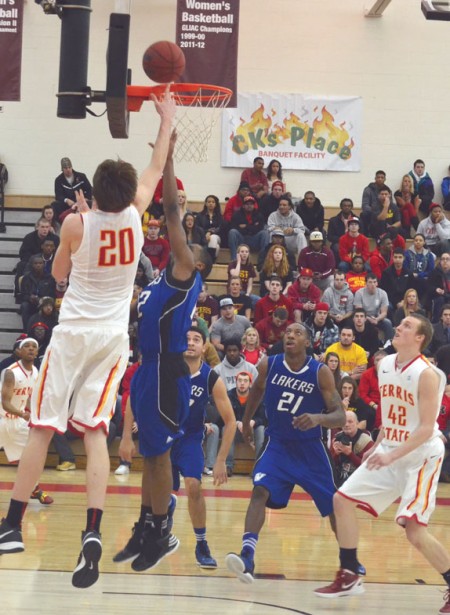 The Bulldogs defeated division rival Grand Valley to extend their winning streak to three games, as they fight for contention in their conference.
Many of Ferris' match-ups this season have come down to just one shot—six games, to be exact. Their bout with Grand Valley State University Feb.2, which ended in Ferris winning 59-58, was no different.
Ferris (10-8) hit the court against GVSU (14-4) on the heel of a two-game winning streak, which included an upset victory over Great Lake Intercollegiate Athletic Conference (GLIAC) leader Wayne State.
Grand Valley came out swinging as they jumped to a 6-0 lead early in contention, but the Bulldogs would soon enough fight back to bring the game within one point at halftime.
The excitement only increased as the lead changed hands seven times in the second half alone, with GVSU sinking a shot to put themselves up 58-57 with only 36 seconds remaining.
With momentum against them, Ferris stole the lead when senior forward Daniel Sutherlin muscled his way into the lane for a layup.
"When I first got the pass from Dietrich, my first thought was to take the jump shot," Sutherlin said. "But Trent was able to seal his man off and clear a lane to the basket for the easy layup. It wasn't what we drew up, but it worked."
Sutherlin averages 12.1 points per game against GLIAC teams this season, while also leading the team in rebounds with 124.
His shot would be the go ahead bucket to seal the win for the Bulldogs, as they headed out the tunnel to cheers from their home crowd.
Following the Grand Valley win, Ferris Head Coach Bill Sall had a clear and concise message to his team.
"His message was to keep building on this momentum," Sutherlin said, "and to take it into next week when we go on the road."
Going on the road will be no easy task as Ferris heads to Michigan Tech to face a Huskies team led by senior forward Ali Haidar. Haidar currently leads the GLIAC in points per game with 24.7, and rebounds per game with 9.5.
Limiting Haidar will prove to be instrumental for the Bulldogs, as they look to come away with a victory and extend their string of wins to four in a row.
"We have picked up our play recently and it shows," Sall said. "Especially on the defensive side, where we are playing bigger teams than us. If we can continue to do that then we can keep winning."
Ferris has beaten two out of the three teams that sit above them in the GLIAC North in Wayne State and Grand Valley this season. Michigan Tech is the third team ahead of the Bulldogs in the divisional standings.
Ferris will need to beat the Huskies to have a shot at home court advantage in the GLIAC tournament and a shot at making a good run in the post season.
"We have to put ourselves in a situation where we can keep moving forward," Sall said. "Our biggest thing now is to keep on getting better; we do this and we can definitely make a run in the tournament."
Ferris will visit Michigan Tech Feb. 7 at the Student Development Complex located in Houghton.