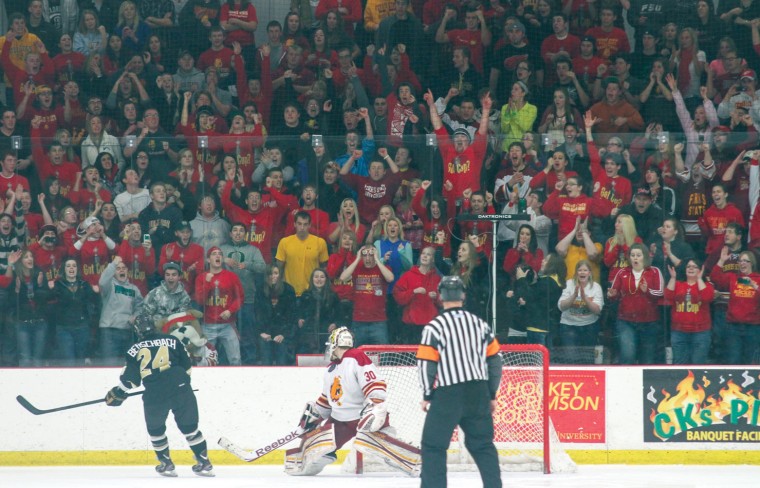 It's not uncommon in sports writing to turn a rivalry into a story. We had the Harbaugh brothers recently tug our strings with their sibling rivalry in Super Bowl XLVII.
Every Michigan newborn with Wolverine fans as parents grows up to believe Ohio State is the bane of all things holy, and followers of the Maize normally feel OSU fans should be treated as such.
While the rivalry story is a common one, fans of sports still live for these moments. It's a chance for a fan to get behind the group that plays for them, all in the hope the fan can say "We're better than you" to the fans of the opposing rival and their team.
Ferris faced their long-time rival and nationally sixth-ranked Western Michigan for the last time in a Central Collegiate Hockey Association (CCHA)regular season Feb.1-2.
The rivalry began due to the teams' two-hour proximity and the fact that each school started as small division I hockey programs on the west side of Michigan before becoming more recognized, bigger and better.
The Broncos had the best of the Bulldogs in their last 13 games, with the Bulldogs earning only a single win and a shootout victory in nearly a two-year time frame that dates back to the quarterfinals of the 2010-11 CCHA Championship quarterfinal round. Ferris has bested Western in the past 16 years, with a 26-22-7 in CCHA play.
However, Ferris had the final say in the rivalry Feb. 2 when the Bulldogs topped the Broncos for four league points in their first shootout victory this year. Their last game lasted two and a half hours.
"I think when you're playing at home and you get physically tested by another team, you have to push back and assert yourself in your home rink. I think that can only bring a group together," Ferris senior captain and left wing Kyle Bonis said. "We wanted to play hard and play tough, but play smart."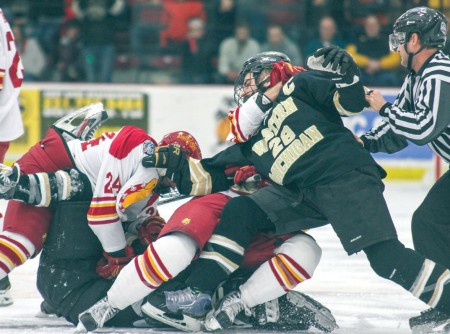 Each team's athletes put all of their will into their last conference game and truly fought for their league points. Every play has just a little more meaning when athletes treat every hockey game during the second half of the hockey season as a playoff game.
Ferris made adjustments to its game from the evening before. Instead of allowing Western to have puck control, the Bulldog defense kept hold of the neutral zone for much of the game, and every member worked to prevent the Broncos from staying in their defensive zone or score the puck.
A pair of poor penalties landed Western two goals within a minute of one another in the third period on the power-play, giving them a 2-1 lead.
Western had a possible sweep in store. In the final minute, the Bulldogs added an extra attacker by pulling sophomore goaltender CJ Motte from the net. Bonis stood in Bronco goaltender Frank Slubowski's blind spot, awaiting any rebound he could pot in to tie the game.
Ferris sophomore defenseman Jason Binkley sent a shot toward the net, after junior wing Andy Huff fought in the corner to loosen a puck and get it to junior left wing Garrett Thompson for Binkley's shot, which rebounded for Bonis to clean up with 42 seconds remaining. He sent the game into a scoreless overtime, after the tying goal.
"It was my favorite game that we've won," Bonis said. "It was an emotional rollercoaster. It was intense, physical hockey. For us to come through as a team with all the things going on is pretty special."
It had appeared the referees calling the game were on Western Michigan's side for much of the night. The Broncos had an athlete get away with holding a Bulldog skater in a headlock for as long as thirty seconds. I began to question just how terminally ill the officials were with BRS (blind referee syndrome).
Also, Western's Justin Kovacs skated right into Motte, toppling him over and causing a brawl to break out as the Bulldogs fought to protect their goalie. Even the CCHA's most composed goaltender, Motte, momentarily lost his cool at the referees' poor officiating.
Ferris and Western delivered monstrous and questionably legal hits (for college hockey), including checks from behind that led to skaters' bodies being slammed against the boards.
It's hard to remain unbiased when watching rivalry games as a student reporter who attends this university and follows Ferris sports. In Ferris' final game against Western, I let loose during the most amazing college hockey game I've ever witnessed live. The usual discipline in the press box was absent.
Bulldog sports fans may no longer enjoy the same rivalry with the Broncos now that Ferris is moving out of the CCHA and into the Western Collegiate Hockey Association after this season.
Ferris owns the fourth place position in the CCHA. The Bulldogs (11-9-2-1) are headed up north, Feb. 8-9, to visit Northern Michigan (5-11-4-1).