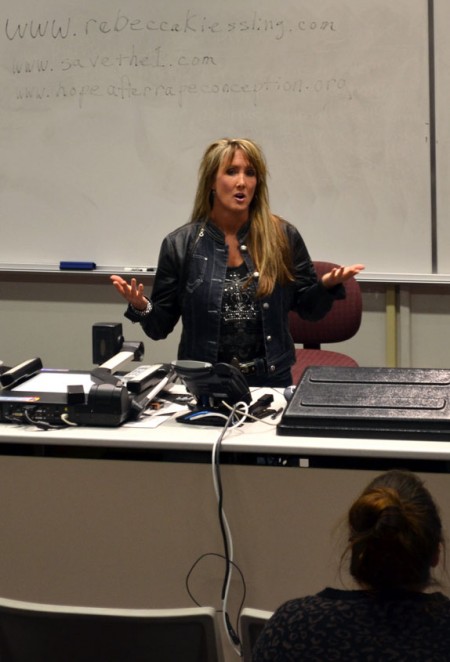 "Conceived in Rape, Targeted for Abortion" is not a just a concept to Rebecca Kiessling, but a life reality.
The international pro-life speaker and attorney came to Ferris State University to share her emotional story with students, faculty and community members on Wednesday, Jan. 30. The evening event left audience members feeling sympathetic and compassionate after hearing her inspirational life story.
"I am alive today because of pro-life advocates, voters and leaders. They are my heroes, and I owe my life to them," Kiessling said. "Some of us are in need of heroes. Being thankful for my life doesn't mean I'm pro-rape."
Like her slogan states, Kiessling was conceived in a brutal rape and was almost aborted. After she was born, her biological mother put her up for adoption. A Jewish family adopted and raised her, but Kiessling started asking questions when she was in middle school.
She wanted to know who her birth parents were and requested information when she was old enough to receive it. When Kiessling was 18 years old, she received her non-identifying information, which contained everything she could imagine about her birth mother except her name.
"It had all kinds of details about my birth mother: Her eye color, hair color, height, weight, age, the age of my half brother and sister who were 11 and 13 when I was born, her ethnicity, religious background, occupation, educational level, detailed medical history, and I just hung onto every word," Kiessling said.
"Then for my father all it said was that he was Caucasian and of large build. And I thought, that sounds like a police description. I called up my case worker, and I asked her, 'Was my mom raped?'  She said, 'Yeah. I didn't want to tell you.' I was just devastated."
After finding out all of that information, Kiessling fought for her right to try to get in contact with her biological mother. She eventually became one of the first people in Michigan to have a judge allow her case worker to try and contact her birth mother to see if she wanted to meet her. And in Kiessling's words, "It worked."
After sharing phone calls, pictures and a letter with her mother, Kiessling met her on her mother's 51st birthday and had a life-changing reunion with her.
Now, years later, Kiessling has been adopted by her birth mother and birth mother's husband. Kiessling is happily married with five kids, two of whom are adopted.
Since 1995, she has been traveling throughout the United States and other countries speaking for her cause, often attending universities in hope to spread her story to as many students as possible.
"I hope they [students] understand that real lives are at stake [when dealing with abortion] and we're talking about real value," Kiessling said.
Lauren Relyea, Ferris junior in pre-radiography, was one of many who took Kiessling's story to heart.
"She makes it obvious where she stands without making people uncomfortable," Relyea said. "Before this I was kind of pro-choice and in the middle. Now that there is a face behind it, it really puts it in perspective. It's nice to hear that."
To learn more about Kiessling's life or cause, visit her website at RebeccaKiessling.com.