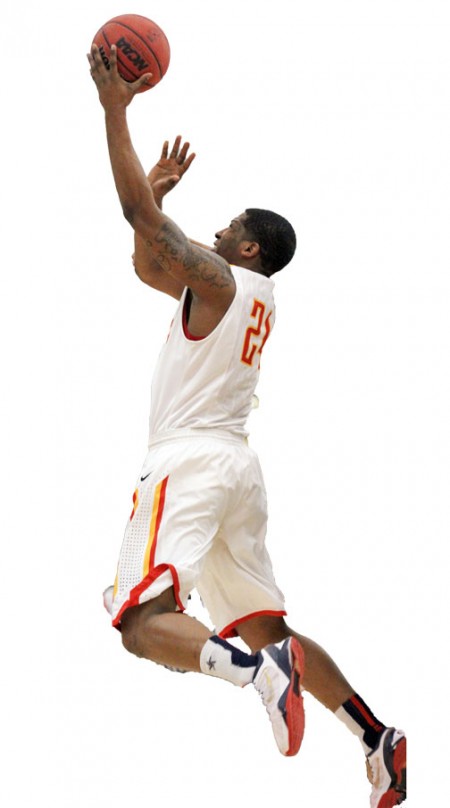 In their sixth game that ended at the wire, the Bulldogs were given a lift by Ferris senior forward Daniel Sutherlin against rival Grand Valley State University in Jim Wink Arena.
Sutherlin, who dual majors in accounting and finance at Ferris, found confidence in his shot against the GVSU Lakers Feb. 2 to break a six-game shooting slump, where he shot 27.8 percent from the field.
"It was one of my top games. It really boosted my confidence going forward, and I think I can build on that," Sutherlin said. "What better way to come out of [a shooting slump] than against Grand Valley at home."
Sutherlin's defender in the GVSU game failed to respect his range, which allowed Sutherlin to take advantage and score a majority of his points from midrange by popping off of ball screens for jump shots.
He sank seven of nine shots from the field, 77.8 percent shooting, against GVSU for 14 points. Sutherlin added an assist, one block, a steal and six rebounds in his first regular season match-up with the Bulldogs' rival this year.
"After I hit that first one, I just found my rhythm," Sutherlin said. "After that, I didn't even hesitate. I kept shooting them and they kept falling."
Down 58-57 with 36 seconds remaining in the game, Ferris relied on Sutherlin to take the last shot against Grand Valley. Ferris Head Coach Bill Sall and the Bulldogs drew up a play for Sutherlin to take a midrange jump shot. Sutherlin instead broke free from a defender and drove into the lane to score the game winning lay-up with 23 seconds remaining.
"The fact that it was my last time playing them [at home] was something I really wanted to cherish," Sutherlin said.
Ferris will travel to Grand Valley, Mar. 2, the weekend before the Great Lakes Intercollegiate Athletic Confer-
ence (GLIAC) Tournament, for its last regular-season game against the conference rival.
In his senior year, Sutherlin averages 30.4 minutes, 11.3 points and 6.5 rebounds. Sutherlin played an integral role on last season's championship team by scoring 12.3 points per game and pulling down eight rebounds in a game.
"Danny is a fabulous defender, he's a great rebounder and he's a very smart person. Being here for four years, he knows what Bulldog basketball is all about," Ferris Assistant Coach Andy Bronkema said. "Whatever he puts his mind to, he'll excel at."
Sutherlin, normally referred to as "Danny," has found his leadership role on this year's team and looks forward to a making a run at the post season.
"No championship team can be without a leader," former two-time champion Ferris guard and student assistant basketball coach Dontae Molden said. "It's all about him believing in himself and staying confident."
He plans to take one game at a time, though Sutherlin alluded to Ferris' chances to jostle the GLIAC North Division standings.
"I think we have a team that can win the whole tournament. We've shown that we can play with any team and beat any team in the league," Sutherlin said. "There's no reason why we can't win a championship this year."
The 6-foot-4-inch forward would like to continue playing basketball upon graduation from Ferris. Sutherlin said he'd be happy to play professional basketball overseas.
"It's a challenge I look forward to," Sutherlin said.