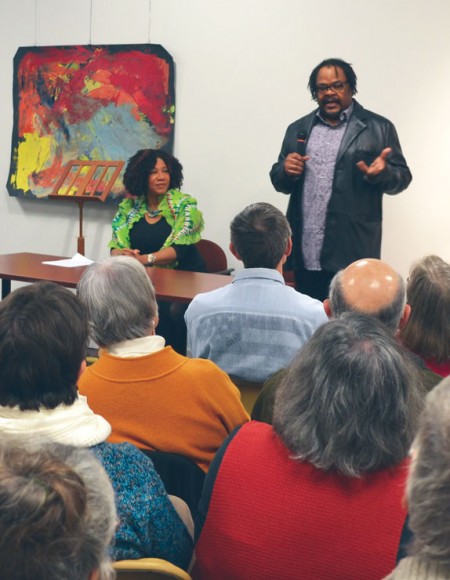 With a bustling crowd, food and guest speakers, the Festival of the Arts' opening ceremony kicked off the month of events to come.
The Festival of the Arts takes place in the month of February and includes various events ranging from art classes to concerts to artist receptions to plays.
The opening ceremony took the time to thank all of the volunteers and coordinators of the event. From there, jazz musician Marion Hayden was introduced along with her husband, Saffell Gardner. Hayden will be performing at the closing ceremonies while Gardner creates a piece of artwork inspired by her music.
Pat Heeter, exhibit coordinator of Artworks, is excited about the upcoming opportunities this month has to offer.
"[This is] the opportunity to share the wonderful world of art and culture with the whole community for no cost," Heeter said. "I want to have new people try new things in the arts."
Heeter is hoping to take part in a couple of the various art classes that will be available.
Anything from music lessons, basket weaving, wood carving, knitting, photography and more will be offered. Ferris sophomore graphic design student Aubrey Roskoskey is hoping to delve into the arts this month as well.
"I know for sure I'm going to the Little Mermaid at the middle school," Roskoskey said.
"I want to do a lot more with the arts – digital or on canvas."
Activities take place on the Ferris campus, Artworks, Big Rapids High School, Crossroads Charter Academy and various churches in Big Rapids, to name a few locations.
If anyone wants to put their creativity to the test, there will also be an array of competitions such as photography, haiku and snow sculpting as well.
"The Festival of the Arts is such a wonderful resource for our community. This month-long celebration is an opportunity for everyone here to experience the arts, and I encourage our students to attend things that interest them," Ferris President David Eisler said. "I also encourage them to experience something they've never tried before."
For a list of all the events, visit ferris.edu/festival.