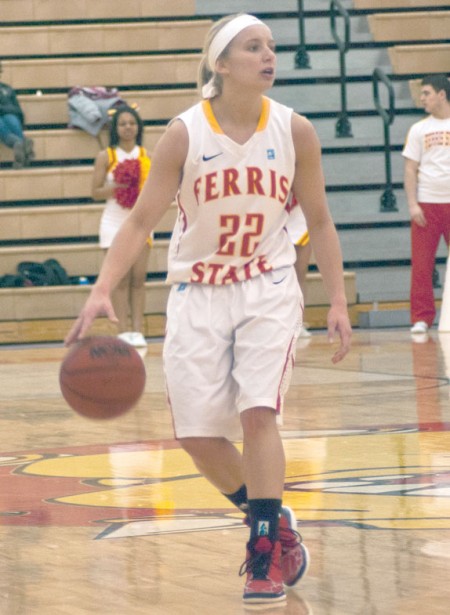 Despite several spurts, the Bulldogs were unable to catch the Grand Valley State Lakers after a big run in the first half of their rival showdown in Jim Wink Arena.
Ferris took an early four-point lead against the Lakers Feb. 2 before GVSU started a 22-5 run including three consecutive three-pointers to put the Bulldogs in an early 24-11 hole.
Junior guard Sarah DeShone and the Bulldogs answered back by going on a 23-11 run as DeShone paced the Bulldogs by scoring seven points. Ferris had key contributions from redshirt freshman guard Katie Mavis completing a three-point play and junior forward Ashley Rando stealing the ball from the Lakers' Meryl Cripe to get the score within one, 35-34.
Although the Bulldogs shot a staggering 63 percent from the field and out-rebounded GVSU in the first half, Ferris trailed 48-43 after the conclusion of the opening half.
Ferris came out flat in the second half, scoring zero points in the first four and a half minutes of play. DeShone broke the ice with a three pointer that ended the drought. Ferris found itself down 57-46.
"I think we've got to get more consistent, more energy from the beginning–that's what we lacked two times," first year Ferris Head Coach Colleen Lamoreaux-Tate said. "They came out in the second half and didn't have any energy either."
The Bulldogs would try to rally back once more, but they would never come within eight points for the rest of the game as they fell to arch rival GVSU by a final score of 83-73 at Jim Wink Arena. This marks Ferris' third loss in a row.
Lamoreaux-Tate acknowledged one positive for Ferris was an outburst by junior center Felicia Standley. Standley scored the Bulldogs' final eight points in the waning minutes of the contest.
"Felicia was unbelievable; that was great," Lamoreaux-Tate said.
DeShone accounted for 20 of Ferris' points, while Rando, Standley and senior guard Kylie Muntz reached double figures in points.
The Lakers ended the game with 17 more shots than the Bulldogs and nine fewer turnovers than the Bulldogs' 25 to cement Ferris' fate. GVSU also held a decisive 37-12 advantage in bench points over Ferris.
Although Lamoreaux-Tate was unhappy with the team's performance, a big road trip looms for the Bulldogs.
"We seem to play good on the road, so we'll see," Lamoreaux-Tate said.
Next on tap for the Bulldogs is a road trip to the Upper Peninsula with showdowns against Michigan Tech Feb. 7 and Northern Michigan Feb. 9 for two Great Lakes Intercollegiate Athletic Conference (GLIAC)league games and positioning in the vaunted GLIAC North Division.