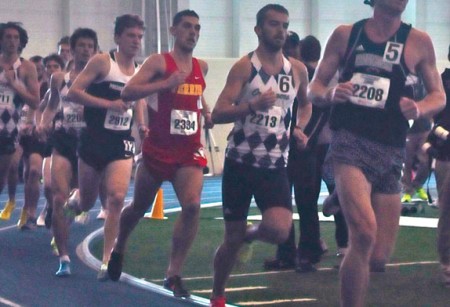 Traveling to Grand Valley State's Kelly Family Sport Center, the Ferris State track and field team took place in one of the nation's biggest indoor competitions competing in "The Big Meet."
With 2,465 participants in attendance, the Bulldogs saw a variety of NCAA Division I and II programs from throughout the country, including schools such as Toledo University, Murray State and Wisconsin-Milwaukee University.
Four Ferris State competitors finished in the top 10 in their respective events.
On the men's side, Ferris senior Ryan Chute led the way, as he finished in sixth place in the mile run with a time of 4:08.25 and also reached the national qualification time. Ferris junior Connor LaRowe finished in ninth place in the 800 meter open run with a time of 1:55.99.
"The competition really was nice. There was that huge level of talent, which really gave the team some tests. But it went really well, the team performed well and a lot of people set their personal records," Ferris senior distance runner Michael Schulte said.
For the women, senior Anna Rudd carried the torch for the Bulldogs, as she took fifth place in the women's 5,000 meter run, finishing with a time of 16:48.19. She also reached a national qualification time. Sophomore Shea Van Klompenburg managed to secure a seventh-place finish in the 800 meter run by recording a time of 2:17.83.
The Bulldogs will return to GVSU to take part in the GVSU Tune-Up competition next weekend on Feb. 15-16 as the final competition before the Great Lakes Intercollegiate Athletic Conference Championships Feb. 22-23, which will also be held at Grand Valley State University.
"The Tune-Up meet gives the team another chance to get their paces down and another chance to run on the track," Schulte said. "For the GLIAC Championships, there will be a hard week of practicing this week, and next week we all have to mentally prepare to do well in the conference
championships."