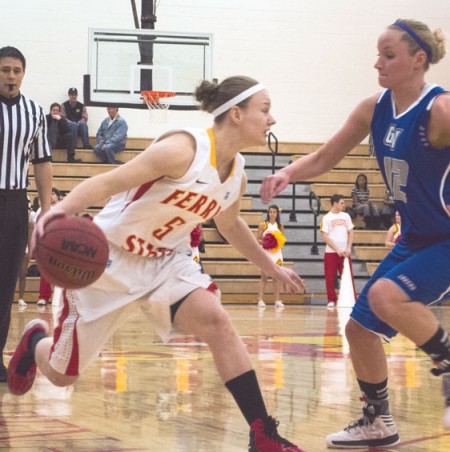 On the heel of a 19-point loss, not to mention a four-game losing streak, Ferris State was tested even further.
Travelling to Marquette for a match-up with the Northern Michigan Wildcats Feb. 9, the Bulldogs clawed and scratched away in hopes of breaking their late season slump.
A three pointer by Ferris junior guard Sarah DeShone with fewer than 40 seconds to play in regulation tied the game. Ferris' sophomore forward Kara Hess would add a free throw to pull ahead by one, though Northern Michigan's Abbey Debruin would get a chance to cash in at the charity stripe with seven seconds to play, down by one.
"Yeah, that was my fault because I made a stupid foul on her," Ferris redshirt freshman guard Katie Mavis said. "But I remember looking across the free throw line at [senior guard Kylie Muntz] and she said, 'We have your back; you're fine.'"
Debruin would make just one, and the game would advance to overtime, deadlocked at 61.
Hess hit a jumper in the extra session and sank a free throw for the game-winning points with fewer than 35 seconds to play to put the Bulldogs up 71-68, and they would go on to win 73-70.
"We came out with energy and kept it the whole game," DeShone said. "We are at our best when we are having fun and we finally did that again yesterday."
The Bulldogs improved to 11-9 this season with the win and will play three of their last five regular season games at home.
They are 1-4 against those five teams. The games include Northwood, who is one win behind them, and Grand Valley State, who is one win ahead of them in the Great Lakes Intercollegiate Athletic Conference (GLIAC) North Division. Ferris State is currently in fourth place.
Virtually every game has become a must-win for the Bulldogs.
"Well, if we want a chance, we'll have to win the rest of our games," Mavis said. "We're definitely capable. It'll be an advantage being back at home again, and winning at Northern is only the start."
A late season charge will be needed, as Ferris must fight for top two in the North Division to guarantee a spot in the playoffs, or pray that the wildcard will fall to them if they don't manage to win the final five.
Ferris junior forward Felicia Standley will be one of the big keys in these last five games. Standley has seen an increase in minutes over the past six games, and has taken the opportunity as it has come to her.
"Coaches have been working with me a lot on finishing, and it's all starting to come together in the games," Standley said.
Standley has averaged eight points per game over the last four, compared to her season average of just fewer than three points per game.
The Bulldogs will return home for a Valentine's Day match-up with conference foe Northwood at 8 p.m. Feb. 14.