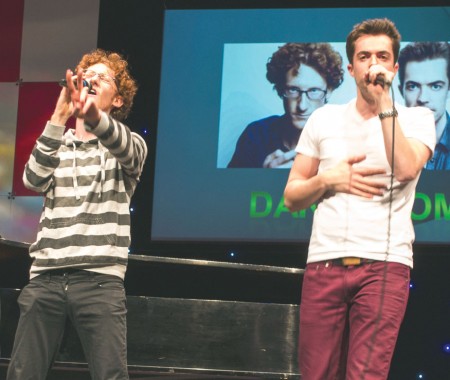 High school friends with a dynamic performance, Dakaboom is a duo unlike any other.
Ben McLain and Paul Peglar, the men behind the singing, became friends over a decade ago. The two synced up to create a unique performance of comedy, beat boxing, singing and a cappella. Think Pitch Perfect, except two guys running the whole show with a piano.
Dakaboom graced Williams Auditorium Feb. 5 for a small crowd waiting to find out what exactly "musical comedy" entailed.
Peglar started out on the piano as McLain leapt off the stage and into the crowd to serenade and dance with one lucky lady. They did their own rendition of "I Can Do Anything Better Than You," a Dakaboom FAQ, 50 television theme songs in under five minutes and a fake commercial promoting themselves.
"We got Midwest swagger and if you get us dancing we got moves like Mick Jagger," McLain boasted as the two confidently moved their way through each song.
Each used his own strengths to captivate the audience. McLain beat boxed his way through the night, at one point creating an entire musical arrangement with just his voice and the use of a recorder. Peglar flaunted his falsetto and his cheesy song making abilities.
McLain also coached Peglar on how to get the ladies, despite some awkward attempts.
"I like the moments where we get to really be uncomfortable and kind of make the audience confused or a little unsettled," Peglar said.
Tiffany Newman, Ferris freshman in forensic biology and biotechnology, said, "I didn't expect so much audience involvement. That was funny."
Personal experiences and real life examples were woven throughout the performance. One skit that reviewed the perks of single life was a hit.
"Truth permeates our show a lot. It's how we come up with material and keep it honest for us," McLain said.
Growing up, both McLain and Peglar were involved in music. Peglar started playing the piano at the age of eight (and has become very protective of his piano ever since).
Meanwhile, McLain started choir at age seven before learning how to beat box by imitating the music he listened to on the radio (despite his parents' objections).
After being close friends throughout high school, McLain attended the University of California, Irvine for vocal performance while Peglar pursued musical theater at the University of California, Los Angeles. After college, the two became roommates before starting Dakaboom.
Peglar, now an actor and musician, appeared on the first season of Fox's "Glee" as the original piano player and is also a music director at The American School in Switzerland.
McLain records and tours with the band Sonos, which appeared on the 2011 season of NBC's "The Sing Off."
"A lot of the comedians that come here don't relate to the students that well, and they actually did," Newman said. "They're just really funny and they have a wide variety of stuff in their act."