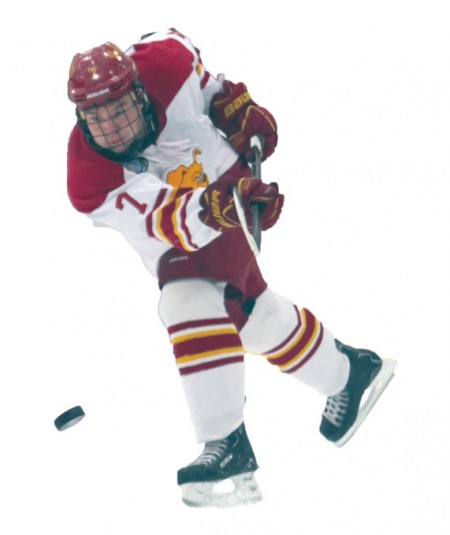 It would be an understatement to say that former Ferris defenseman Chad Billins was the glue on the blue line for last season's CCHA Championship Bulldogs squad.
Billins, now with Detroit Red Wings American Hockey League affiliate Grand Rapids Griffins, left a hole that needed to be filled.
Though young on the blue line, at one point playing nothing but freshmen and sophomores on the defense against Western Michigan Feb. 2, the Bulldogs have remained a gritty defensive team.
A large piece of the defensive puzzle is Ferris sophomore defenseman Jason Binkley. Binkley has started on the top defensive line with Ferris junior defenseman Scott Czarnowczan for the most part, though Czarnowczan has missed many games this season due to various injuries.
"Seeing the defensemen that step up into the offensive game is fun," Binkley said, "but you have to respect the guy that stays at home and plays solid hockey."
Binkley is one of many solid puck moving defensemen on the Bulldogs' blue line, but he has played as calm and fluid as a senior.
"He has good vision," Ferris freshman forward Brandon Anselmini said. "He plays simple and efficient hockey."
Binkley doesn't stand out in the goal department, but much like Billins in Grand Rapids, he has been a staple on the power play, leading the Bulldogs in assists with 16 this season.
He is one of just six Bulldogs who has played in every single game this season and has a positive six plus/minus overall.
Binkley's solid play cultivated in the Feb. 2 match-up with Western Michigan. Head Coach Bob Daniels had much praise for him in the post-game press conference.
"As the game went on, he got better and better," Daniels said. "He was super tonight and he logged a ton of minutes. There were some times when he came up and cut in goal for chances; he was all over the place."
Binkley fired a shot that led to the rebound that Bulldog Captain and left wing Kyle Bonis stuffed in to tie the game at two goals apiece with 42 seconds remaining in regulation, thus putting his hand in on the outcome of the game.
"It's tough to keep your emotions in check in a game like that," Binkley said, "but we were able to calm down after the fight, and I got that shot away and we ended up with the win."
Binkley headlines a defensive class that has been not only solid in front of Ferris sophomore goaltender CJ Motte, but again, a young one. The future of the blue liners is bright; Czarnowczan will be the only senior on the back end next year, which should help further stabilize the Bulldogs.
The Bulldogs allow an average of 2.25 goals per game, which should continue to dip over the next few years with the added experience of Motte and his defensive fortress in front of him.
"It's nice knowing there's a solid guy in front of me," Motte said. "He plays hard and is ready for every game. He really battles hard and competes."