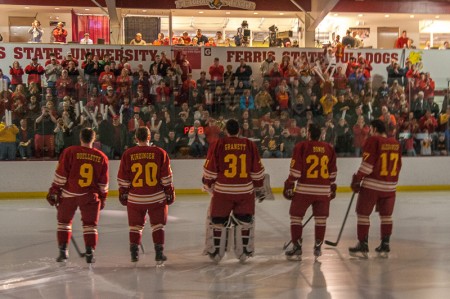 Ferris State finished their last regular season home game in the 34 years the university has been a member of the Central Collegiate Hockey Association by acknowledging this year's seniors and delivering a loss to Bowling Green State.
The Bulldogs completed their weekend series, after a devastating 2-1 overtime setback to the Falcons on Feb. 15, by pulverizing BGSU 4-3 on Feb. 16 at Ewigleben Ice Arena.
"We played a grittier game and that's what we needed to do to get the victory," Ferris senior left wing Kyle Bonis said. "That's really positive going forward."
Ferris sophomore center Justin Buzzeo rocketed a shot past BGSU goaltender Tommy Burke for a one goal lead. Ferris' junior right and freshman left wings Justin Demartino and Matt Robertson assisted Buzzeo, respectively.
Bonis added a second goal for the Bulldogs shorthanded. Junior right wing Garrett Thompson sent the puck past the rink's two blue lines to a breaking Bonis. Bonis targeted a spot above Burke's top left shoulder with 52 seconds remaining in the first period.
With momentum on their side, the Bulldogs opened the second period with a goal by junior center Cory Kane at 1:32. Ferris junior forward Andy Huff fed senior right wing Eric Alexander, who instinctively passed to Kane. Kane beat Burke and gave the Bulldogs a 3-1 lead.
The Falcons needed no more than 35 seconds to catch the Bulldogs and tie the game up 3-3 in the second.
Ferris' Thompson tipped in a rebound in the second period for his fourth power-play goal of the year, and his third game winning goal this season trumping the Falcons 4-3.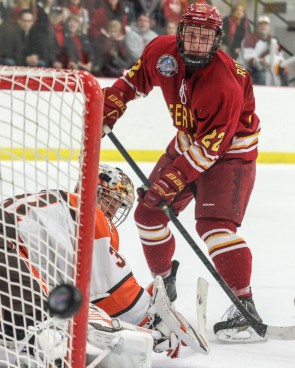 Motte made 26 saves, with a bulk made during a second period Falcon shootout that featured 17 shots to Ferris' nine, and improved his record to 14-12-4 overall. He is 13-10-2 in the CCHA.
Ferris collectively made as many saves as Motte, with 26 blocks in the game. Four Ferris defenseman made three blocks each.
A five day break and nearly two weeks of zero game activity will allow the battered Bulldogs to heal up.
"We have so many injuries right now. Our line-up is so thin," Ferris Head Coach Bob Daniels said.
Ferris had two skaters missing in their line-up due to injury, and has been forced to play athletes that must work through their own partially rehabbed injuries in games.
The Bulldogs will begin preparing for their last regular season game against the Michigan Wolverines at Ann Arbor which takes place Mar. 1-2.
Ferris has 42 league points in the CCHA and is currently tied with Ohio State University in fourth place.
To retain the fourth place position in the CCHA and a possible bye in the first round of playoffs, the Bulldogs will need to sweep the Wolverines and hope OSU drops at least two of their final games of the year.
"I have a funny feeling we're going to need to take one, if not two. They're going to be huge games for us," Bonis said. "[Michigan is] a great team."
More photos from this weekend series are available on the Ferris State Torch Facebook page.
Friday
Saturday