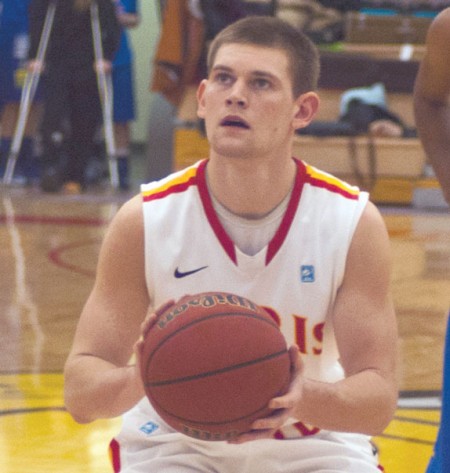 Ferris sophomore guard Drew Lehman is demanding the respect of the GLIAC after being overlooked by them earlier in the year.
As Ferris State (14-9) is stuck in a three-way tie for second place in the GLIAC North Division standings, Lehman has quietly helped the Bulldogs win games.
Lehman has not won athlete of the week in Ferris' conference this season, despite playing his best basketball. He helped Ferris notch wins with his three-point shooting and late game heroics.
Lehman has been lending his play to a team that already has a lot of scoring potential in seniors guard Kenny Brown and senior guard/forward Daniel Sutherlin, but it seems as though he has gone a bit unnoticed, as he has played solid basketball throughout the year.
"He's really stepped up in big situations, and he has been very consistent when it comes to hitting big shots in crunch time," Sutherlin said. "There's nowhere for him to go now but up. I see him being an all-league player for the rest of his career."
Lehman is one of only two players for Ferris that has started all 23 games this season so far, the other being sophomore point guard Dietrich Lever, which proves Lehman's durability.
Apart from his playing streak, Lehman has scored an average of 12.7 points per game against conference foes, which is second on the team only to Brown's 16.9.
Lehman has also nabbed 23 steals and 54 assists this season, while playing an average of 33 minutes each game.
The only thing left to prove for Lehman is how high his ceiling is, as he has shown steady improvement since his freshman year, which impressed his teammates.
Lehman's play has not only impressed his teammates this season, but his coaches also speak highly of the second-year shooting guard.
"Drew really leads by example," Ferris State head coach Bill Sall said. "The leadership qualities are within him, and he never puts himself in a situation where someone else will out-work him."
Lehman has everything in place to become a great player for Ferris down the road, but he has not strayed away from the fact that basketball is, and always will be, a team sport.
"I believe it's very important to be a team player," Lehman said. "Being a great player doesn't happen without winning games, and you can't do that without playing as a team."
With the hopes of another GLIAC title hanging in the balance, the Bulldogs will need players like Lehman to step up their play, as only three games remain in the regular season.
Ferris will travel to Detroit to play a Wayne State team that currently sits atop the GLIAC with a conference record of 14-4.
The Bulldogs will battle the Warriors Thursday, Feb. 21 with tipoff at 6 p.m.